GraFizix, an Animation Production Company in Korea Airs Mind Blowing Breakthroughs, an Animation That Combined Education and Entertainment
Press Release
•
Nov 21, 2022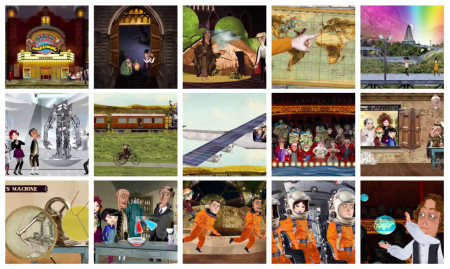 CYPRESS, Calif., November 21, 2022 (Newswire.com) - Mind Blowing Breakthroughs, a Korean education + entertainment program, is receiving positive responses from the industry.
The show is based on various contents such as science, art, and history, and is provided in the form of animation, performance, and exhibitions. It is a popular brand that enjoyed fame as an animation in Korea, followed by books and performances. GraFizix is a complex content production company composed of animation teams, R&D teams, and performance exhibition teams. (FraFizix Co., LTD is the enterprise holding Professional Technique and the Infrastructure of Programing_Producing of Animation/Edutainment and Contents/Digital media Arts). Based on Mind Blowing Breakthroughs, it has planned and produced family musicals, experience exhibitions, holograms, and functional games.
An animation that introduces the history and science of the East and West, Mind Blowing Breakthroughs
It is an educational animation that aired up to three series on EBS, a Korean educational broadcaster. Currently, Korean, English and Spanish dubbing are available. The narrator of the work embodied the history of great men through dialogue and motion graphics. In particular, Heo Poong-Sun's art show TV series animation was produced in collaboration with Astrolab Motion in Argentina in 2012.
Children's science musical "Mind Blowing Breakthrough-Science Show"
For the musical version of the show, "Mind Blowing Breakthrough-Science Show Season 2: Marie Curie vs Einstein," was performed.
The musical is a science variety show in which Baron Münhausen invites scientists who have made famous achievements in history to virtual reality to compete with their brains. The life and achievements of Nobel Prize-winning scientist Marie Curie and Albert Einstein were expressed interestingly in augmented reality (AR) and holograms. It introduced a new genre called the Academy of Sciences Musical, which incorporated various science and technology into the performance.
Mind Blowing Breakthrough - Academy Board Game
The Mind Blowing Breakthrough - Academy Board Game is an educational game based on the achievements of scientists and musicians from the East and the West. The board game was also selected as a Game of Excellence by the Korea Creative Content Agency. The game allows players to learn common sense for science and music naturally with three-dimensional characters. The board game was so popular that it sold out of stock.
Meanwhile, GraFizix is producing experiential performances using realistic media technology. It is preparing to enter the EduTech market based on facial recognition AR technology and holograms. GraFizis is expanding the variable cultural contents area developing the core technologies of contents and process of sustaining research & development.
Homepage: http://grafizix.com
Source: GraFizix