Grace Century Forms 'Steering Committee' for Its Portfolio Company Provia Laboratories, LLC
Press Release
•
updated: Aug 31, 2018
Proper funding secured, top business leaders recruited to drive Provia to profitability and dominance in the Dental Stem Cell Banking Sector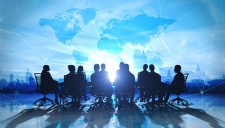 RAS AL-KHAIMAH, United Arab Emirates, August 31, 2018 (Newswire.com) - Grace Century, LLC has formed and recruited some of its top members to assist their bio-banking project, Provia Laboratories, LLC. The firm has been growing organically for the last 3 years, and with proper funding secured, a multi-tiered approach has been formulated to drive the company forward.
The firm plans on increasing the number of its inside Client Coordinators by 400 percent between now and January 2019. To accompany this, an increase in advertising of up to 500 percent is also planned from present levels. One of the top call centers in the United States has also been retained to manage customer relations with the interested parents who have contacted Provia for the information about this new and potentially revolutionary lifesaving option in regenerative medicine. Finally, its lab facilities are being geared up to also handle a processing increase of 500 percent.
Grace Century is blessed with a deep network of Angels that have incredible experience and are willing to give support. With this plan and the committees' input and expertise, I feel sky is the limit.

Scott Wolf, President and Director of Research, Grace Century
Scott Wolf, CEO of Grace Century explains, "With all of these moving parts, you have got to have multiple layers of experience, expertise, and skillsets. We are blessed with a deep network of Angels that have this incredible experience already and are willing to give this support."
Joining the committee are two Regional Presidents presently leading two of the largest multinational consumer athletic and sports firms in the world. Their experience with the consumer, as well as their knowledge of a multi-billion dollar company, is invaluable to a growing consumer-based firm in a new industry.
The third Member to join is a Private Equity / Investment Banker, who was previously the non-Executive Director of a publicly traded multinational / multibillion dollar Private Equity firm in the U.K.
Scott Wolf adds, "The support that all our members have given has been incredible. With this plan and the committees' input and expertise, I feel sky is the limit."
ENDS
About Grace Century, FZ LLC
Grace Century FZ LLC is an International research and Private Equity consultancy located in Ras Al Khaimah, (north of Dubai) in the United Arab Emirates (UAE). Grace Century specializes in "game-changing" life science and health-related Private Equity projects.
For portfolio or company information please email info@gracecentury.com or call +971 (0)7 206 8851
Please direct all media enquiries to info@bigwheel.me or call +971 (0)52 712 1777
Website – www.gracecentury.com
Facebook - https://www.facebook.com/GraceCentury
LinkedIn - https://www.linkedin.com/company/grace-century-holdings-fzc-llc
Twitter - https://twitter.com/GraceCentury
About Provia Laboratories, LLC
Headquartered in Littleton, MA, Provia Laboratories, LLC is a healthcare services company specializing in high-quality bio-banking (the collection, transport, processing and cryogenic storage of biological specimens). Provia Labs offers the Proviasette™ product range for use in bio-banking environments to improve sample logistics, security and quality.
The company manages and promotes its own bio-bank for a dental stem cell banking service, Store-A-Tooth™, which gives families the option to store stem cells to protect their children's future health and take advantage of advances in stem cell therapies.
Provia advises industrial, academic and governmental clients on matters related to the preservation of biological specimens for research and clinical use.
Provia Labs is a member of ISBER, the International Society for Biological and Environmental Repositories, as well as ESBB, the European, Middle Eastern & African Society for Bio-preservation & Bio-banking.
For further information about Proviasette™, please call Provia Labs at +1 (781) 652-4815, email Howard Greenman hgreenman@provialabs.com or visit www.provialabs.com
Source: Grace Century
Related Media