Governor's Glen Memory Care & Assisted Living Community Gives Back to the Community During the Thanksgiving Holiday
Press Release
•
updated: Jan 13, 2020
This past Thanksgiving (2019), Claudia Murphy and Nancy Green hand-delivered Thanksgiving meal baskets to the community.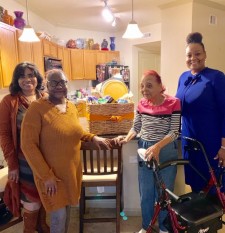 ATLANTA, January 13, 2020 (Newswire.com) - ​Governor's Glen is giving back to the community this holiday season!
Governor's Glen, Atlanta's own vibrant and active memory care and assisted living community, prides themselves on dedicating themselves to treating their patients and residents like family. Welcoming residents with Alzheimer's, Dementia, and other memory problems is what makes them a unique benefit to the community. They have all of the skills and knowledge to provide seniors with top-notch, high-quality care.
This year, Governor's Glen took it upon themselves to take their community outreach to a whole new level by preparing two Thanksgiving meal baskets. The meal included a turkey or ham, bread, iced tea, and an assortment of decadent desserts.
The goal of this particular holiday project was to give back and honor a memory care senior and their loved one and/or primary caregiver.
The 2019 recipient of the Governor's Glen "Giving Back Thanks" is Claudia Murphy.
Claudia Murphy was a volunteer at the Bowden Center under the leadership of Lorraine Cook, Adult Day Program Coordinator, before her diagnosis with breast cancer.
Ms. Murphy served the Bowden Center faithfully, assisting seniors in any capacity that was needed. Her diagnosis and cancer treatments have never stopped her from doing what she loves most, her true passion; caring for others.
Claudia is a caregiver to Nancy Green, a 98-year-old woman whom she cares for daily. Claudia takes the bus to Ms. Green's home every single day to provide her with compassionate care. One of their favorite activities is taking daily walks.
After Claudia cares for Ms. Green, she then helps take care of her own son-in-law, who recently suffered a stroke.
Despite her cancer treatments, Claudia still finds the strength to care for others. When Governor's Glen hand-delivered the Thanksgiving basket to her on Nov. 26 she was absolutely elated and thankful for the support and recognition.
The wonderful staff and community at Governor's Glen have gone above and beyond in their efforts of community outreach, their goal is to make everyone feel supported, especially this holiday season.
Governor's Glen is conveniently located and easily accessible to those living in Stockbridge, Forest Park, McDonough, Fayetteville, Locust Grove, Hampton and other areas in and around Atlanta. Their desire to go out their own doors and into the Atlanta metro community shows the dedication they have not only to their current residents, but also to the public, and those that will call Governor's Glen home in the future.
Source: Governor's Glen Memory Care & Assisted Living
Additional Links