GoLookUp Launches a Quick and Easy to Use People Search Tool
Press Release
-
updated: Feb 11, 2018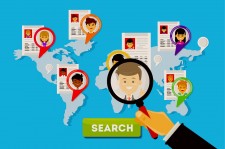 WILMINGTON, Del., February 11, 2018 (Newswire.com) - With over 300 million residents living in the U.S. today, many find it difficult to keep in touch with friends and even family members. Relying on social media and search engines alone to find people can be quite difficult, especially when there is a need for accurate information about a person.
To make the search for people and also vital information about them easier, faster and more accurate, GoLookUp has launched a People Search directory that makes the arduous task much easier.
People Search – the Tool that Everyone Needs
In order to keep track of people and help save their information, states all across the U.S. collect vital information, such as birth records, marriage records, estate information and also criminal records. Many of these records become public records accessible to others, meaning that accurate information is available to those who need it. Searching for such information on people in the U.S. is difficult due to the fact that there are billions of public records as of today.
To simplify matters, GoLookUp allows users to conduct a people-search based on the first name, last name and state of residence of the person in question. Within minutes, the directory collects information from different databases and billions of public records to provide users with all they want to know.
With the quick and easy to use people search tool, GoLookUp users can find long-lost relatives, rekindle old flames, find unclaimed money and much more. The search also provides contact information of the person searched for those who wish to make contact with someone they lost touch with. For those that only have the phone number of a person, the reverse phone lookup on the site can help retrieve further contact information.
Searching for people and accurate information about them in traditional methods can be very difficult and time-consuming, but GoLookUp has made things a lot easier with the people search engine that allows anyone to find the information they need about people from their past or present.
For further information:
GoLookup.com
1000 N West Street
Suite 1200
Wilmington, Delaware 19801
Toll Free: 1-877-890-2213
Source: GoLookUp
Share:
---
Categories: Internet and e-Commerce, Search Engines, Public Safety
Tags: background check, companies information, people search, public records, reverse address lookup, reverse phone lookup, sex offenders search, unclaimed money
---