GoLookUp Announces Access to Billions of Public Records
Press Release
-
updated: Feb 5, 2018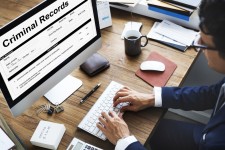 WILMINGTON, Del., February 5, 2018 (Newswire.com) - For the past 100 years, states all across the U.S. have been documenting vital records about their residents in order to keep track of important information during their lives. These records include birth records, death records, marriage records, criminal records and much more information that is now organized by various official organizations.
Each state has a pull of such records that it releases for the public to view, making them Public Records. Accessing the vital information found in such records can be virtually impossible, but GoLookUp is now offering an easy way to search and collect public information about residents all across the United States.
Public Records – Rules and Regulations
Each state in the U.S. decides on how to record, store and allow access to public records of its residents. The different rules and regulations across the states can make it difficult to locate public records regarding a certain person due to the fact that different officials in each state hold different public records.
In order to make the search easier and quicker, GoLookUp has set up a public records search that allows anyone to access information about a person or even a company in the U.S. The only information needed to conduct a thorough search on the website is a person's first name, last name and state of residence, and the website does the rest. The public records information found on GoLookUp can help conduct a people search and also a background check to find what a person has in its past that might be worth knowing.
Keeping Safe with GoLookUp's Public Records Search
Access to public records can be used in many ways, and it can be a lifesaver in some cases. GoLookUp's system, which collects information from billions of public records, can provide detailed information about a person's past and their deeds. The search can reveal a criminal record that may be indicative of a troubled history, help search for sex offenders in a certain area, unearth lost funds and provide much more information that can impact the website's users.
Public records can help access a world of vital information that can be used in many ways, most important of which is for self-protection. With GoLookUp's public records search, there is no need to spend time going to different officials and offices across the states, but only to provide basic details and let the system do the rest.
Source: GoLookUp
Share:
---
Categories: Safety, Internet and e-Commerce, Corporate Social Responsibility
Tags: arrest records, background check, companies information, criminal records, people search, public records, Unclaimed Money
---