Gold Key Technology Solutions Earns Respected Technology Industry Credential
CompTIA Managed Services Trustmark™ signifies commitment to industry best practices
Press Release
-
Mar 3, 2016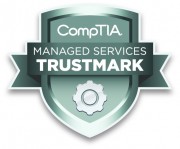 TEMPLE, Texas, March 3, 2016 (Newswire.com) - Gold Key Technology Solutions, a managed IT services provider that delivers enterprise-level technology services and management to small businesses in a variety of industries, announced today it has received the CompTIA Managed Services Trustmark™, a respected industry credential that signifies its adherence to best practices for technology service delivery and customer interaction.
"Earning this credential identifies Gold Key Technology Solutions as a business that meets or exceeds the best business practices the IT industry has to offer," said Nancy Hammervik, senior vice president, industry relations, CompTIA. "This includes managed services agreements, standard operating procedures, systems and tools for delivering services and general business operations."
The Trustmark was developed by CompTIA, the non-profit association for the information technology industry, in collaboration with industry experts and leaders, to identify businesses that have made a commitment to the highest levels of integrity and sustained quality service.
"We have all been working very hard during the past 12 to 18 months to improve every aspect of our business," said Jay McDaniel, President, Gold Key Technology. "Communication, documentation and process refinement are just a few areas that we have improved. Earning the Trustmark from CompTIA is a validation of that effort. We are excited to be part of their organization and look forward to continued improvement."
To earn the CompTIA Managed Services Trustmark, Gold Key was evaluated on several aspects of their business operations, including organizational structure, technology tools and systems they utilize, standard operating procedures and IT service specific activities. The company also committed to abiding by a code of conduct and provided customer references.
Visit CompTIA Managed Services Trustmark to learn more.
About Gold Key Technology Solutions
Gold Key Technology Solutions is a managed IT service provider that delivers enterprise-level technology services and management to small businesses throughout Central Texas and the Brazos Valley. Being a cloud computing and cloud management solutions provider, Gold Key also offers customized IT services for both large and small projects to businesses competing in the education, insurance, non-profit, medical, healthcare, legal, financial, accounting, manufacturing, advertising, media, real estate and engineering industries. The company takes a proactive approach to servicing the business technology needs of its clients. This approach allows all of the systems it manages to experience far more uptime than with traditional technology services. That success is built on Gold Key's use of remote management tools that constantly monitor the health and well-being of their clients' technology environments. For more information about Gold Key and its IT services and cloud management solutions, visit the company at goldkeytechnology.com. To learn more now, call 254.774.9035 in Temple, Texas, and 979.446.5937 in Bryan, Texas. To get the latest industry news and trends, go to goldkeytechnology.com/blog-2/.
About CompTIA
CompTIA is the voice of the world's information technology (IT) industry. Its members are the companies at the forefront of innovation and the professionals responsible for maximizing the benefits organizations receive from their investments in technology. CompTIA is dedicated to advancing industry growth through its educational programs, market research, networking events, professional certifications and public policy advocacy. Visit www.comptia.org/home.aspx or follow CompTIA at facebook.com/CompTIA and twitter.com/comptia.
Contact: Jay McDaniel | 254.541.2655 | www.goldkeytechnology.com
Share:
---
Categories: Business Technology, Business to Business, Small Business
Tags: austin, brazos valley, central texas, cloud computing, comptia, dallas, gold key technology, industry credential, IT project, managed IT services, san antonio, trustmark
---