Going Paleo Without Going Broke: FEBC Offers Guidance to Dieters
Press Release
-
updated: Aug 15, 2018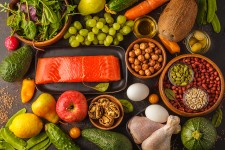 SAN RAMON, Calif., August 15, 2018 (Newswire.com) - What do ketogenesis, the Paleolithic era and grocery budgeting have in common? A few things, but one of them is the Paleo diet. Also known as the caveman diet, people who switch to Paleo eating habits base their new diet on how humans ate over two million years ago. The essential idea is that they only eat what Paleolithic humans ate, such as lean meats, fish, fruits, vegetables, nuts and seeds. Critics argue that eating only grass-fed beef, wild fish and organic vegetables is too expensive for the average person who is trying to eat a healthy diet. Financial Education Benefits Center (FEBC), a membership benefits company that offers health and financial wellness resources, recommends that if eating healthier is the goal, individuals should consider easing into a new dietary lifestyle instead of rushing into it.
"A highly restrictive diet, such as gluten-free and dairy-free, can be difficult for someone who is new to the lifestyle," said Jennifer Martinez, manager at FEBC. "Like the critics say, it can also be difficult to throw out everything in your fridge and go to a fancy grocery store for higher-end protein and produce."
Perhaps dieters new to the Paleo diet could benefit from FEBC grocery discounts. Instead of spending their whole paycheck on the most expensive foods like grass-fed steaks, they could research the pros and cons of different types of meat and what experts recommend. People new to Paleo need to develop food budgets so that they don't get overwhelmed by high prices at the checkout counter. The Penny Hoarder recommends going "part-time Paleo" to ease into the changes slowly. This may also result in a long-term lifestyle change because it is not a shock to the body or wallet. Additionally, buying organic isn't mandatory and buying frozen fruits and veggies can be an acceptable substitute. However, these pieces of advice could be frowned upon by people who adhere more strictly to the Paleo lifestyle. Depending on where someone shops, groceries can get expensive and FEBC may be able to help dieters afford higher-quality grocery items at a lower cost.
If people are new to Paleo and not sure what exactly they should eat, they could also look into FEBC's telehealth benefit. This benefit allows a member to talk to a medical professional about diet and nutrition. For example, Paleo eaters avoid dairy, grains, refined sugar and highly processed foods. Then again, as one blogger pointed out: there is no official Paleo authority. While diets like Whole30 have an official book and very clear guidelines, the Paleo diet has rules that can change depending on the blogger. Instead of trying to aim for perfection, one Paleo dieter recommends finding three to five bloggers to follow for food ideas and nutrition tips. However, the main takeaway for anyone pursuing a new diet is to do what works for them and what is realistic for their budget and health.
"We want to see you succeed in your health goals and one of the ways FEBC can you help with that is through our grocery discount programs," Martinez added. "If you need more support, members could use the telehealth benefit to get expert advice on diet and nutrition specifically geared towards them."
About Financial Education Benefits Center
Financial Education Benefits Center is located in San Ramon, California. The membership company has already helped thousands save money and obtain the necessary education required to live a financially healthy life.
Financial Education Benefits Center has partnered with several name brand third-party companies to expand the financial and educational products and services available to its members and to provide a variety of wellness services as well.
Financial Education Benefits Center Newsroom
Contact
To learn more about Financial Education Benefits Center, please contact:
Financial Education Benefits Center
2010 Crow Canyon Place Ste. 100
San Ramon, CA 94583
1-800-953-1388
info@febcp.com
Source: Financial Education Benefits Center
---
Categories: Active and Healthy Living
Tags: diet trend, eating right, health and wellness, healthy foods, membership benefits, paleo diet
---