Goat Yoga Finally Comes to New York
NY Goat Yoga at Gilbertsville Farmhouse introduces New York to the latest health and fitness craze that is Goat Yoga
Press Release
-
updated: May 11, 2017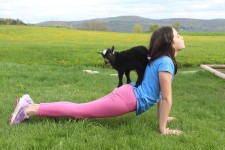 South New Berlin, NY, May 11, 2017 (Newswire.com) - What is Goat Yoga? Well, it's just like a regular yoga, with stretching, postures and breathing, except with adorable and friendly goats wandering around, jumping on participants as they "downward dog," giving kisses, and possibly nipping at yoga pants. Goat yoga is part of a growing trend of including friendly animals in human exercise routines. It's healthy, it's therapeutic and it's loads of fun.
"Everyone in our family is an animal lover. When we moved to the farmhouse, we bought some chickens, turkeys, bunnies and then goats. Our goats have all been bottle-fed and are friendly, loving and very therapeutic. 6 p.m. at our house is known as 'Goat Time.'  Now we get to share our goats and our sacred Goat-Time with everyone else through Goat Yoga." said Sharon Boustani, owner of Gilbertsville Farmhouse. 
Classes will begin at Gilbertsville Farmhouse in South New Berlin, N.Y., on June 1st, 2017. So far, there are classes scheduled for every Thursday at 6 p.m. and every Sunday at 3 p.m. in June. More classes will be added throughout the summer and fall.  
For out-of-towners who want in on the fun, Gilbertsville Farmhouse is hosting a 3-Day Overnight Goat Yoga Retreat on June 9-11th, 2017. This retreat includes a 2-night overnight stay in one of their highly acclaimed glamping tents, goat yoga classes and catered meals.
Classes will be led by Kelly Morrissey, Vanessa Pellegrino or Courtney Place, all experienced and certified Yoga Instructors who currently teach yoga at the YMCA in Oneonta, N.Y.
Sign up for classes here:
https://www.eventbrite.com/e/ny-goat-yoga-at-gilbertsville-farmhouse-tickets-34332513472?utm_source=eb_email&utm_medium=email&utm_campaign=new_event_email&utm_term=viewmyevent_button
Sign up for the overnight retreat here: 
https://www.eventbrite.com/e/ny-goat-yoga-3-day-all-inclusive-overnight-glamping-retreat-for-two-tickets-34360337695
About Gilbertsville Farmhouse:
Gilbertsville Farmhouse operates primarily as a rustic wedding and retreat venue. It was founded in 2013 by Aldo and Sharon Boustani and their four children, formerly of New York City. In 2004, Aldo and Sharon were looking for a country home for their family — a place to unwind from their hectic NYC lives. They discovered their "little" (125 acres) slice of upstate heaven 3 1/2 hours away from the city, in a town right outside of Gilbertsville, New York. They fell in love.
At first, they would travel almost every weekend to their private getaway.  Slowly, the area, the community and the lifestyle dug roots in their hearts. They dreamt of making a permanent life there. After almost ten years, their dream began to look less like a fantasy and more like a reality. Starting in 2013, they repurposed the buildings and grounds on their former dairy farm to create a unique and gorgeous rustic wedding venue featuring two stunning barns and a one-of-a-kind Glamping Village. Gilbertsville Farmhouse was born, a weekend wedding venue only 3 1/2 hours from NYC.
After three years of operating their business and 3 1/2-hour commutes, the former NYC family became permanent members of their small-town community. As the family settles into their new lives, Gilbertsville Farmhouse continues to grow and expand. As with every part of their lives and business, Aldo and Sharon most enjoy sharing it with others.  
In 2017, adorable Nigerian Dwarf babies joined the family and farm and NY Goat Yoga was born. Aldo, Sharon and their family look forward to sharing their dream, their place and those babies with their supporters, friends and community.
Go to their website:  
www.GilbertsvilleFarmhouse.com
www.NYGoatYoga.com
Contact:
Sharon Boustani
Cell: (917) 747-8989
Farmhouse: (607) 783-9443
Email: skb117@aol.com       
Source: Gilbertsville Farmhouse
Share:
---
Categories: Active and Healthy Living, General Interest, Vacations and Travel, Yoga / Meditation, Country Living, Arts and Entertainment
Tags: active, farm, fitness, goat, goat yoga, health, lifestyle, retreat, stretching, yoga
---