Go Kart Track, Chicago Heights School District 170 Create STEM Academy
Experiential Learning STEM Program With Go-Karts Makes Students Fast Learners
Press Release
-
updated: Feb 13, 2018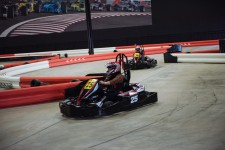 CHICAGO, February 13, 2018 (Newswire.com) - On Tuesday, Feb. 13, 2018, Accelerate Indoor Speedway & Events and Chicago Heights School District 170 will launch a STEM Academy with a curriculum aligned with Common Core State Standards and Next Generation Science Standards at the 75,000-square-foot racing-themed entertainment center.
Developed by experienced STEM educators, the academy will serve Chicago-area students in grades 3-12. At the launch, 52-54 7th and 8th graders will learn about the history of racing, the science behind speed, acceleration and friction, Newton's Laws of Motion, momentum, mathematics (degrees, angles, and turns), and reading/language arts (racing vocabulary, safety, and terminology) in an onsite classroom lesson.
Each student will have the hands-on, 21st-century experiential learning opportunity to apply what they've learned while driving a go-kart on the race track and will be joined by Tom Amadio, superintendent of Chicago Heights School District 170; Mary Kay Entsminger, assistant superintendent of Chicago Heights School District 170; Nick Pezzuto, director of STEM Academy; Stephanie Cryer, foreign language and writing instructor; Angela Novak, ELA instructor; David Fazzini, math/coding/engineering instructor; Safiyah Malvin, science/engineering instructor; Ken Hanson, social studies instructor, and Joe Barker, IT specialist.
The Accelerate Indoor Speedway STEM Academy is part of a growing national trend of experiential learning, where students learn by doing. "Working with Accelerate to develop a 21st-century, rigorous curriculum has been beyond rewarding for our staff and students. Through the relationship we have built, students from across the region will experience an educational and enjoyable field trip that adheres to the common core state standards," says Pezzuto.
"We're looking forward to working with educators from the entire region in providing world-class, memorable lessons. In the future, we will be adding learning modules that include green, sustainable energy as our onsite solar panels generate enough electricity to power our zero-emission electric karts," says James Galdikas, general manager, Accelerate.
While the track appeals to all ages, Accelerate makes a special commitment to area youth. In addition to the STEM Academy, the track will partner with local law enforcement later this year in a distracted driving prevention program, as well as support Special Olympics Illinois.
"Accelerate Indoor Speedway is a unique, family-oriented attraction that draws racing enthusiasts and corporate outings from across the region, contributing significantly to our retail sales tax base and could possibly generate up to $100,000 in amusement tax revenue to help fund road maintenance, police protection and other core public services that directly benefit Mokena residents," says Village President Frank Fleischer. "We love the momentum Accelerate adds to our ongoing efforts to become a regional destination for recreation-oriented activities."
The facility features two Grand Prix-style indoor tracks and next-generation Italian-made, electric karts with touchscreens, boost buttons, speakers to simulate a Formula 1 engine that can reach speeds up to 50 miles per hour, along with glass walls to watch all the action. Guests can also relax at the mezzanine-level Victory Lap Bar & Grill, featuring local craft beers, with wall-to-wall windows overlooking the races. The center also has racing simulators with world-famous tracks and courses, video games and other attractions.
The SBA Green project uses solar panels to generate most of the electricity needed to power the zero-emission karts, and the new business will create 75 jobs and draw more than 100,000 visitors each year. Two of the partners, David Larson and Mike Larson, grew up in the south suburbs of Chicago.
At Accelerate Indoor Speedway, everyone can be a race driver with F1-like handling and the warp speed-like acceleration that only electric karts can offer.
The company provides racing techniques instruction to newcomers and offers competitive leagues to more seasoned drivers. There are even Junior Karts (with slightly slower speeds) suitable for the younger crowd if they are at least 48 inches tall.
For more information about Accelerate Indoor Speedway, visit 8580 Springlake Drive, Mokena, Illinois, 60448.
Follow Us!
https://www.facebook.com/AccelerateChicago/
About Accelerate Indoor Speedway:
Accelerate Indoor Speedway is a premier indoor karting center. The European-style go-karting takes place in a 75,000-square-foot, state-of-the-art facility in Mokena, Illinois. The two Grand Prix-style tracks provide a real racing experience. Racers take to the tracks in unique, high-speed electric Italian pro-karts. These F1-inspired karts reach speeds of up to 50 mph. The attractive, upscale facility has the latest technology and is ideal for corporate events, team building, fundraisers and competition racing events.
Contact:
Eric Hartsock
443-858-4437
ehartsock@exit10.com
Source: Accelerate Indoor Speedway
Share:
---
Categories: K through 12, Sciences, Amusement and Theme Parks
Tags: Accelerate Indoor Speedway STEM Academy, Chicago Heights School District 170, Common Core State Standards, Experiential Learning, Indoor Go Karting, Learn By Doing, Next Generation Science Standards
---