Autobahn Indoor Speedway Go-Kart Experiment May Settle the 'Are Race Car Drivers Athletes?' Debate
After first race, 98 percent of participants said drivers are true athletes.
Press Release
-
updated: Nov 16, 2018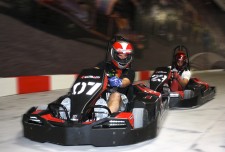 MEMPHIS, Tenn., November 16, 2018 (Newswire.com) - As the 2018 NASCAR Championship Weekend at Miami-Homestead approaches this weekend, the debate as to whether race car drivers are athletes will no doubt resurface in television studios, sports bars and living rooms across the country, yet a simple experiment conducted by Autobahn Indoor Speedway & Events at 6399 Shelby Drive in Memphis suggests the argument would be best settled from racing, not talking.
From April 1 through October 31, 2018 employees asked 315 first-time karters to answer the simple question: "Do you think race car drivers are athletes?" Pre-race, 52% of customers said, "Yes." Employees asked those customers the exact same question after they'd completed their races, and 98% agreed that race car drivers are athletes.
Alexis Gillis agreed that professional race car drivers are "top tier athletes." "It takes endurance. You have to be smart. You have to have mental strength," said Gillis. Almost every participant said it was "harder than it looks."
"I think race car driving is like a lot of sports. When watching it on television, it's hard to appreciate how difficult it is, and the best drivers always make it look easy," said Josh Mayo, General Manager, Autobahn. "We felt the place to settle this argument was not in the television studio or by the water cooler, but at the track."
And, as Mayo points out, racing an electric go-kart in air-conditioned comfort for a few miles while wearing street clothes is not the same as negotiating an open wheel or stock car in heavy traffic for 400 miles or so at 200 miles per hour. And while what the pros do is much harder, less than 30 minutes of karting demonstrated how much coordination, spatial awareness, reflexes, mental focus, and physical endurance racing requires.
According to Mayo, Autobahn Indoor Speedway & Events, which has 12 indoor tracks nationwide where Italian-made, Formula 1-inspired, electric pro-karts can reach speeds up to 50 miles per hour, will continue the survey in all of its locations next year.
While the debate may persist in circles well beyond the track, it's been settled in the minds of those who make their living in racing. Professional and amateur athletes, along with weekend warriors, are encouraged to take the Autobahn Racers are Athletes challenge by visiting www.autobahnspeed.com. They are also encouraged to post videos or opinions on Facebook, Twitter, and Instagram using the hashtag #AutobahnAthletes.
"Cardiovascular efficiency to prevent falling out of the seat, strength base for overall resilience, challenging the central nervous system to enhance reactive motor function — these are the overarching benefits we can achieve from implementing a comprehensive performance program," said Caitlin C. Quinn, MS CSCS RSCC, who trains professional drivers for Toyota Racing Development.
# # #
FACEBOOK: www.facebook.com/AutobahnMemphis
About Autobahn Indoor Speedway:
Autobahn Indoor Speedway is a premiere indoor karting center. The European style go-karting takes place in a state-of-the-art facility in Memphis, Tennessee. The Grand Prix style provides a real racing experience. Racers take to the tracks in unique, high-speed electric Italian pro-karts. These F1 inspired karts reach speeds of up to 50 mph. The attractive, upscale facility has the latest technology and is ideal for corporate events, team building, fundraisers, and competition racing events. For more information, visit: www.AutobahnSpeed.com.
Contact Information:
Eric Hartsock
Tel: 443-858-4437
Email: ehartsock@exit10.com
Source: Autobahn Indoor Speedway & Events
Share:
---
Categories: Car Racing, Amusement and Theme Parks
Tags: Are Race Car Drivers Athletes, Athletes, Autobahn Indoor Speedway & Events, Entertainment, Go-Kart, Karting, Memphis, NASCAR Championship Weekend, Race Car Drivers
---