Globig Opens Up China
Provides The Resources Needed To Be Successful In China
Press Release
-
updated: Jan 12, 2017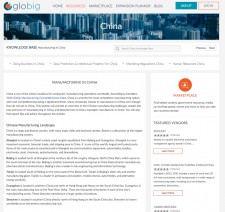 Boulder, CO, January 12, 2017 (Newswire.com) - ​Boulder based Globig.co is proud to announce the opening of China in the Globig platform and marketplace. China is the top requested country of interest from US companies growing their business around the world. Although expansion into China is growing, many companies are not expanding their business into China, but rather, they are seeking guidance in navigating the opportunities, complexities, and risks associated with manufacturing in China.
Globig.co is a comprehensive international business expansion website that provides small to mid-sized fast growing companies with the expertise required to be successful around the world.
Here's a small sample of what you find in the China Knowledge Base and Marketplace:
1.     Guidance on business culture for negotiations and meetings
2.     Deal points to include in manufacturing contracts
3.     Trademark and IP protection
4.     Vetted experts to assist, such as lawyers, trade specialists, quality assurance, and more 
"China is a very exciting market to tap into and there are a lot of opportunities to do business there. Unfortunately we see many companies making costly mistakes when working in China, mistakes that could easily be avoided with our guidance," says Anke Corbin, Globig's Founder and CEO. "Globig has created free, easy to use resources and we've vetted business experts around the world to help companies expand successfully. Ultimately, our goal is to help companies save a lot of time, risk, money, and the headache of going it alone or with un-vetted experts."
Over 2,000 companies from around the world are already using Globig resources for their international business growth, and millions more need help.
Source: Globig.co
---
Categories: Entrepreneurship, Growth and Expansion, International Law
Tags: China Business Expansion, China Manufacturing, China Trade, Global Expansion, global expert advice, globalization, International Expansion
---