Global 'Good Exchange' Activation Announced Between Ovanova and 5th Element Group PBC to Fund Rainforest Partnership
Press Release
•
updated: Apr 19, 2019
Innovative Solar Education Initiative Projects Windfall for Climate-Friendly Causes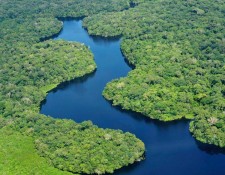 OXFORD, England, April 11, 2019 (Newswire.com) - ​​At Skoll World Forum today at Oxford University, Ovanova, a service company created to provide funding to nonprofits when consumers engage with information about solar energy solutions, announced its first global outreach campaign with new partner 5th Element Group PBC.
"We have worked to create a unique consumer education experience that will unlock millions of dollars of donations for organizations that are fighting for our planet," said Lester Crafton, co-founder of Ovanova. "The time is now to shift the way we connect marketing budgets with social impact and how we create the energy we need to connect and create with each other, so we are going for it."
The Ovanova solution is straightforward enough: the moment a supporter of an organization connects with an Ovanova solar educator on a brief phone call to explore the benefits of transitioning to solar energy, the company donates $50 to the nonprofit of the supporter's choice.
"We think that Ovanova is the ultimate 'Good Exchange' for a more sustainable planet," said Ed Martin, Chief Omniwin Officer at 5th Element Group. "Scaling this will provide a case study experience that we think will inspire many other companies to consider how they can direct marketing budgets in ways that unlock impact for people and planet."
The first nonprofit selected by 5th Element for the global Ovanova activation is Rainforest Partnership. Based in Austin, Texas, Rainforest Partnership's mission is to protect and regenerate tropical rainforests by working with the people of the forests to develop sustainable livelihoods that empower and respect both people and nature.
"We are grateful to be part of this important campaign to lift people and planet alike," said Niyanta Spelman, founder and CEO of Rainforest Partnership. "We need more collaborations like this to show how companies and NGOs can change the world together; and with Earth Day being this month, the timing was perfect.
This effort is being supported as well by The SDG5 Global Alliance, which spotlights women-led organizations leading the way to achieve the United Nations' Sustainable Development Goals.
The collaboration is also supported by the digital agency SaleAmp (www.SaleAMP.com), which will provide strategic vision, as well as awareness and lead generation services to 5th Element in support of the Ovanova campaigns.
"We are honored and thrilled to be part of this groundbreaking and innovative collaboration between 5th Element, and Ovanova," said Frank Richards, Executive Chairman of SaleAMP. "The consumer engagement experience is a unique and nuanced model and our rich experience in consumer activation on both the digital and physical landscapes perfectly positions SaleAMP to create robust and relevant engagement for this venture. This form of engagement will become a best-in-class, direct-to-consumer marketing case study for the rising generation."
###
About Ovanova
Ovanova is a free service causes and organizations use to raise money, by increasing solar awareness within their communities of supporters. It created a free service to help organizations raise funds by raising awareness on the most abundant source of energy available to us – sunlight. Organizations receive a $50 donation each time a supporter participates in an interactive call with an ovanova solar energy educator. Ovanova's initiative is to stand as a catalyst in the transition from a world fueled by fire to a society connected by light. To support Rainforest Partnership by exploring solar for your home, building or property, start here:
https://www.ovanova.co/support/rainforestpartnership www.ovanova.co
About 5th Element Group PBC
5th Element Group PBC is a global impact accelerator that creates "traffic on the bridge" between KPI-driven performance and SDG-aligned impact. Our mandate is to achieve this with client-partners (donors, investors and brand leaders) through six practice areas, which integrate traditional and innovative impact strategies to facilitate "omniwin" value exchanges. www.5thElement.Group
About Rainforest Partnership
Rainforest Partnership protects and regenerates tropical rainforests by developing sustainable forest economies. Often, the pressures to clear the forest are hard to resist when there are no good economic alternatives. That's where Rainforest Partnership comes in, with projects that generate an income that allow rainforest communities to keep their forest and make a living. www.RainforestPartnership.org
About The SDG5 Global Alliance
Born out of the Decade Of Women initiative launched at the United Nations, The SDG 5 Global Alliance is a non-organizational, omniwin movement lifting the work of a wide range of SDG5 leaders and causes, with donations administered through The SDG Impact Fund. It has no staff and is directed by a team of pro bono Co-Chairs each year in an effort to lift inspirational and aspirational activations supporting the empowerment of women and girls (together with men and boys who share the vision!) all around the world. www.sdg5.global
About SaleAmp
Founded in 2006, SaleAMP provides a broad suite of digital strategy and marketing services including revenue programming, PPC, SEO, social, content, predictive data solutions and analytics. SaleAMP's focus is on the complete consumer engagement landscape. With offices in LA, Austin, Denver, and NY, SaleAMP continues to grow and innovate, setting the standard for best in class client success. www.SaleAMP.com
About Skoll Foundation
The Skoll Foundation is a private foundation based in Palo Alto, California, with a mission to drive large-scale change by investing in, connecting and celebrating social entrepreneurs and other innovators dedicated to solving the world's most pressing problems. It makes grants totaling about $40 million each year. www.skoll.org
Source: 5th Element Group
Tags
Additional Links