Donald Trump Voodoo Doll and Hillary Clinton Voodoo Doll Now Available From Artwork of Prophecy
Global Black Magic Presidential Curse Cast By Artwork Of Prophecy Release of Presidential Voodoo Dolls Just in time for the Election Season - Trump & Hillary Voodoo Dolls! Poke Them In Their Ideology!
Press Release
-
updated: Jul 29, 2016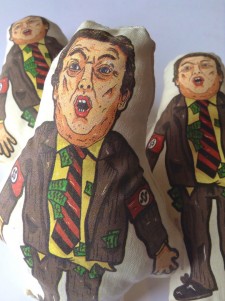 Portland, Oregon, July 25, 2016 (Newswire.com) - It's election season and people are angry! Some are hating on Hillary, some are hating on Trump, some hate them both, but instead of feeling helpless and frustrated, "We The People" can now stick a pin in it! Really, stick a pin with all the feeling one can muster and watch the politicians bend to your will. It's your pin, your wish.
These "1% Push Pin Politicians," otherwise known as a black magic voodoo dolls, were created to help the disgruntled get their frustrations out! "It's a positive protection for the people,"' says artist Shane Bugbee who conceived the idea for the dolls and collaborated with fellow artist Grimore for the likenesses. "My idea was to help people motivate possible future presidents to their will and push the pendulum our way!" Bugbee adds.
These voodoo dolls serve to help voters release frustrations during what has been an extremely divisive campaign season, wrought with controversy. The artist behind the idea decided rather than spend the next few months yelling at the TV, radio, or newspaper, he would create something to at least help the voters feel better. 
The dolls are hand-made, with a screen printed appliqué. They are just over 6 inches tall, and include a handful of hearty stick pins to let the user to make their intentions clear. These dolls are made one at a time in USA by angry Americans. Each voodoo doll is limited to 666 dolls and they are hand numbered.
Currently, the artist is looking for art galleries willing to show life-size versions of these dolls, he will then ask viewers to write their intent on a small slip of paper and push-pin it into the life-size candidate. For each pin of intent, there will be a donation box for which half of all proceeds will be donated to vote and campaign reform organizations in hope to change our system to one man, one vote, and get big money out of the process. 
Available at https://artworkofprophecy.com
Buy one for $13 or both for $20, shipping included.
Only 666 of each doll are available.
Follow #

CurseClinton

#

CurseTrump

To exhibit the life-size Donald and Hillary, contact the artist Shane

Bugbee

at shanebugbee@gmail.com
Source: Artwork of Prophecy
Share:
---
Categories: Elections, Politics, Arts and Entertainment
Tags: 1%, Bernie Sanders, Clinton, Election, Election Fraud, Hillary, The Donald, Trump, Voodoo Dolls
---