Gifts for the Gardeners on Your Holiday Shopping List
Press Release
•
updated: Nov 1, 2019
HomeGardenandHomestead.com Picks the Top 5 Holiday Gifts for Experienced and Beginning Gardeners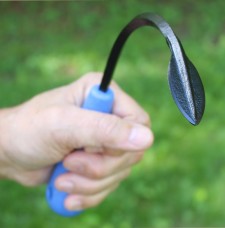 COLORADO SPRINGS, Colo., November 1, 2019 (Newswire.com) - ​​​​​As the holiday season arrives, it's time to make a gift list — and check it at least twice. Some friends and family members are easy to buy for. But the difficult-to-shop-for friends and relatives require a bit more creativity.
Fortunately, HomeGardenandHomestead.com has assembled its Top 5 list of the best gifts for gardeners.
"This year's holiday gift list includes great choices for experienced gardeners as well as beginners who want to learn about gardening," said Randall D. Schultz, Content Editor for HomeGardenandHomestead.com, a leading website for information and trends about homes, gardens and homesteads of all sizes.
All of the gifts on this Top 5 list can be purchased online for quick delivery in time for the holidays.
Precision Weeding Tool
The best garden tools make gardening easier, and the award-winning CobraHead "mini" Weeder is the perfect tool for precision weeding in flower beds, vegetable gardens and containers. The forged steel blade cuts through all types of soil, even the toughest clay. The ergonomic blue handle is molded around the unique steel blade to ensure it can never work loose. The CobraHead "mini" Weeder sells for $24.95 on www.cobrahead.com.
GreenPrints Magazine
GreenPrints magazine is a special gift for anyone who delights in planting seeds and caring for plants. Unlike other magazines that deal with the "how-to" aspects of gardening, GreenPrints is the only publication that shares the joy, humor and inspiration of gardening with wonderful stories and beautiful illustrations.
Subscribers say things like "I kiss each issue when it arrives!" and "This (magazine) is the most joy one can give for this amount of money!" A one-year subscription is $24.95 from www.greenprints.com.
Ultimate Seed-Starting Kit
Park's Ultimate Vegetable Garden Collection contains everything needed to start seeds indoors. The sturdy Park Bio-Dome seed starter creates the ideal environment for seeds to sprout. The cover keeps moisture in and the vents promote airflow to the seedlings.
This collection also includes eight vegetable seed varieties — including tomato, pepper, cucumber, eggplant, squash and cantaloupe. A fertilizer pack and easy-to-understand instructions are also included. It sells for $49.95 from www.parkseed.com.
Dig Holes Fast
Why dig holes for bulbs and starter plants when you can drill them? The planting augers from Power Planter have a 3/8-inch, non-slip hex drill bit end that fits into any standard power drill. Simply put the planting auger into the drill, tighten it up and use the power drill to quickly drill holes. It's that easy. The Plant Auger Starter Pack sells for $39.50 from www.powerplanter.com.
Garden Tutor
Garden Tutor is an online course in gardening basics designed with the beginner in mind. The educational course can teach anyone how to design, install and maintain the garden of their dreams. Garden Tutor provides everything a beginner needs to get started on a lifelong hobby. Order online at www.gardentutor.com.
Source: HomeGardenandHomestead.com
Related Media