Gift Giving Expert Aileen Avery Provides Unique Gift Suggestions for Dads and Grads on Tips on TV Blog
Every Dad's and Grad's Wish List this Year!
Press Release
-
updated: Jun 19, 2017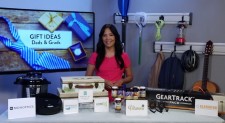 Atlanta, GA, June 19, 2017 (Newswire.com) - The nation's first Father's Day was celebrated on June 19, 1910, in the state of Washington. However, it was not until 1972, 58 years after President Woodrow Wilson made Mother's Day official, that the day honoring fathers became a nationwide holiday in the United States. Many years later, choosing gifts for dads and added to it the grads, is still a challenge, according to Aileen Avery, who has studied and written about both the psychology and history behind gift giving in her popular book Gift Rap: The History and Art of Gift Giving.
ONE GIFT THAT IS SURE TO IMPRESS ANY DAD
When looking for gifts to impress Dad it can sometimes be hard. So, in addition to great gifts they can unwrap, try giving dad a memorable experience too. This Father's Day, give him the gift of travel. To ensure a stress-free and comfortable getaway, start by choosing the right hotel. The All Suites brands by Hilton have more than 800 properties all over the United States, and include Embassy Suites, Homewood Suites and Home2 Suites. Not only do they have spacious accommodations complete with separate living and kitchen areas, but they also offer a variety of free amenities, from daily breakfast to an evening reception. Starting at $99 a night, Dad will feel special and the budget will go farther. Go to hiltonbringit.com to check out these deals. 
UNIQUE GIFT TO CONSIDER GIVING DADS & GRADS THIS YEAR
Holidays and new phases in life can lead to stress. As a matter of fact, a recent study found that more than a third of Americans said not having enough time to get organized leads to stress. This year, consider giving a unique gift that can help relieve stress by helping that special Dad or Grad get organized. Gladiator, the leader in garage storage and organization solutions for the past 15 years, has the answer with its best-selling Gladiator GearTrack Pack starter kit. It installs in just 15 minutes to organize tools, sports gear, and more to create space and gives Dads and Grads more time to do what they love. For the grad who is moving into their first apartment, it offers quick, accessible storage. For the outdoor-loving Dad, the piece is easily outfitted to hold camping gear and equipment. Even the hooks can slide and be repositioned as seasons and hobbies change. The GearTrack Pack has a great price point of about $50 and is the foundation of the Gladiator organizational system of workbenches, cabinets, shelving and more that can be found at retail stores like Lowe's and Home Depot, or online at gladiatorgarageworks.com.
A SPECIAL GIFT THAT HAS A PERSONAL TOUCH
Everybody wants their Dad to be around for a long time, and also their grads to be prepared for the next step in life. It is important to exercise and stay healthy, and to take care of brain health. When stressed, it can really affect the brain's function. Vitanova's Brainfood has ingredients derived from organic blueberries and sunflower seeds, which help to boost mental performance and enhance memory function. This allows your mind to become sharper and more focused. Vitanova also give back 10% to support the preservation of botanical wisdom that comes from the indigenous communities that maintain the botanical knowledge and sourcing of the whole ingredients used in Vitanova's supplements. For their full range of supplements, you can visit Vitanova.com and get a Brainfood and receive a Men's or Women's Multivitamin free!
BEST GIFTS THAT CAN BE FOUND ONLINE THIS YEAR
When shopping for the perfect gift for Dads and Grads this year, check out a great website Monoprice.com. Monoprice is a leading online retailer for high-quality, affordable consumer electronics, home appliances and accessories. They recently launched the Strata Home Appliance line, which includes the All-in-One Pot that is a pressure cooker, slow cooker, steamer, and rice cooker. This multi-functional product is easy to use and prevents kitchen clutter. It is the ideal gift for anyone from a convenient cook to an amateur chef and is just under $70. Monoprice has the Cadet High Suction Robotic Vacuum. It is the perfect gift for someone starting college or graduating from college and heading into the real world. The ultra-compact vacuum allows for easy cleaning under furniture, all hands-free, and is under $100. Both have free shipping. These are just a few things you can find on Monoprice.com, as there are over 7,000 products. Where everyone is sure to find the perfect gift for Dads and Grads!  
Contact: tipsontv@gmail.com
Source: tips on tv, aileen avery
Share:
---
Categories: Consumer Goods, Media and News, Public Relations
Tags: fathers day, gifts, graduations
---