Getting Out of the Snack Rut: Child and Adult Care Food Program Sensational #NCASuperSnack Ideas
Press Release
•
updated: Feb 7, 2017
National CACFP Sponsors Association Wants to Know: How do you CACFP Super Snack?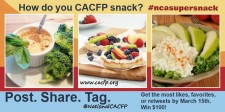 Austin, TX, February 7, 2017 (Newswire.com) - At the National CACFP Sponsors Association, we know that the habits childcare providers instill in children at an early age will become life-long healthy choices. We also know that it's easy to become stuck in a snack rut. So we're asking everyone, "How do you CACFP snack?"
Post your healthy CACFP creditable snack to Facebook, Twitter or Instagram and tag @NationalCACFP. Then hashtag your photo #ncasupersnack! Whoever has the most likes, shares, and favorites on March 15, 2017 will win $100 and be featured in our eNews and at our San Diego Conference April 18-20. We'll also make a free downloadable #ncasupersnack inspiration booklet with everyone's favorite snacks and then our children win too!
How do you #ncasupersnack?
Are you a child care provider or center and not participating with the Child and Adult Care Food Program? Learn how you can be reimbursed for serving healthy and nutritious snacks and meals to the children in your care. Find a Sponsor at www.cacfp.org
Since 1986, the National CACFP Sponsors Association (NCA) is the leading national organization for sponsors who administer the USDA Child and Adult Care Food Program (CACFP). We provide education and support to thousands of members in the CACFP community and in particular to sponsors of all sizes from across the country. We strive to improve communication between families, caregivers, sponsors, and their supervising government agencies. To find out more about NCA and our upcoming Annual Conference, please visit www.cacfp.org.
Source: National CACFP Sponsors Association
Additional Links