Get Optimal Returns in All Market Conditions With Downside Protection: Announcing the ReSolve Online Advisor
Press Release
•
updated: Jan 19, 2017
ReSolve Online Advisor to offer investors revolutionary quantitative strategies that target optimal returns with downside risk management.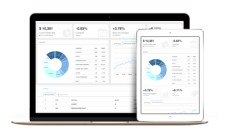 Toronto, Canada, November 22, 2016 (Newswire.com) - Leveraging the most advanced research and trading infrastructure available to private investors, ReSolve Asset Management, a leader in global ETF managed portfolio solutions, is proud to announce the ReSolve Online Advisor. Finally, private investors can access leading active investment solutions with global diversification and downside protection from the comfort of their home or office.
For over five years, the team at ReSolve has challenged conventional investment practices by deploying globally-diversified portfolios that adapt in real-time to changes in market risk. The firm takes its lead from empirical evidence, offering rules-based solutions to meet a variety of investment objectives. At the ReSolve Online Advisor, investors will gain access to the firm's full range of advanced strategies, including the maximally balanced Global Risk Parity portfolio; the extremely dynamic Adaptive Asset Allocation program, and; the Global Tactical Equity strategy, designed to produce benchmark beating stock-market returns with rigorous downside protection.
Robo-advisors have grown up in a'rising tide' economic environment that has been extremely friendly to the domestically-focused stock and bond markets that dominate their portfolios. When that changes - and it will - investors in traditional robo portfolios are going to learn exactly what happens when the tide goes out.

Adam Butler, CEO, ReSolve Asset Management
"We don't view ourselves as disruptive to the robo advisor industry," says President Mike Philbrick. "We view ourselves as taking the next step. Moving away from expensive mutual funds towards inexpensive index ETFs is unambiguously a good thing, and we have Betterment, Wealthfront and Vanguard to thank for that. But to us, this still leaves major unresolved issues. Simply, fund costs aren't the biggest drag on portfolio performance. It's our emotional vulnerabilities as investors."[AB1]
Mr. Philbrick believes the best way to address investor emotions is to deploy strategies that automatically respond to major shifts in global markets. That means shifting toward safer assets in response to rising risks, while moving quickly to take advantage of evolving opportunities. The ReSolve Online Advisor delivers the transparency and cost-effectiveness found in traditional robo-advisor offerings, but adds cutting-edge adaptive investment methodologies with the potential to thrive under any economic conditions. ReSolve Online Advisor strategies are designed to effectively navigate even the most difficult economic conditions, including periods like the 2008 Global Financial Crisis, which inflicted over 30-50% losses on traditional investment portfolios.
"Traditional robo-advisors and their clients have never lived through a recession or a bear market," adds CEO Adam Butler. "Robo-advisors have grown up in a 'rising tide' economic environment that has been extremely friendly to the domestically-focused stock and bond markets that dominate their portfolios. When that changes – and it will – investors in traditional robo portfolios are going to learn exactly what happens when the tide goes out. We'd rather nudge investors off the market's emotional roller coaster, and instead provide clients with strategies that deliver consistent results, even during the most hostile market conditions."
For more information, visit InvestReSolve.com/robo
Contact:
Ani Yildirim
Director , Marketing and Communications
ReSolve Asset Management
(1) 647-253-1135
ani.yildirim@investresolve.com
Source: ReSolve Asset Management
Related Media
Tags
Related Files
Additional Links