ReSolve Announces It Has Acquired Acorn Global Investments
Press Release
•
updated: Jul 6, 2018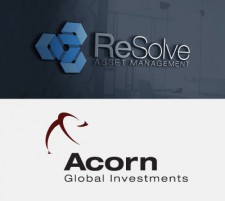 TORONTO, July 6, 2018 (Newswire.com) - ReSolve Asset Management Inc. ("ReSolve") is pleased to announce that it has acquired Acorn Global Investments Inc. ("Acorn"), an alternative investment manager specializing in managed futures and macro strategies. Acorn has approximately $210 million in assets under management and has had a long-standing and close relationship with ReSolve.
"We have worked closely with Acorn for many years. Their strong combination of investment research, execution and operational capabilities lay the foundation for our next phase of growth," said Adam Butler, CEO of ReSolve. "The Acorn team's long history of significant experience in crisis-alpha oriented managed futures programs empowers an important extension of ReSolve's strategy lineup."
"This amalgamation simply formalizes many years of a tremendously productive partnership," said Jason Russell, president of Acorn. "The two teams share similar philosophies, interests and business goals. Yet, our areas of focus and experience are diverse and complementary. We are excited to combine resources, eliminate or reduce redundancies and, most importantly, produce the best results possible for our investors."
In connection with ReSolve's acquisition of Acorn, Acorn's personnel will amalgamate with ReSolve, as the continuing corporation, being the portfolio manager and investment fund manager of the Acorn Diversified Trust Fund and the ReSolve Adaptive Allocation Fund.
ABOUT RESOLVE
ReSolve Asset Management's business focus is to be a leader in systematic global investment strategies designed to complement and enhance traditional portfolios of stock and bonds. ReSolve advises Institutional Offshore and U.S. Delaware Private Pools, ETFs, mutual funds and accredited funds in Canada, the United States and internationally, including the ReSolve Adaptive Asset Allocation Fund in Canada and in the U.S. offered via Rational Funds.
Contact:
Mike Philbrick, CIM® AIF®
President, ReSolve Asset Management
Email: mike.philbrick@investresolve.com
Phone: (1) 416-572-5478
Source: ReSolve Asset Managment