George W. Bush Truck to Be Auctioned at Barrett Jackson
Only known vehicle to have been signed twice by a U.S. president will be the highlight of a Barrett Jackson auction in West Palm Beach.
Press Release
-
updated: Mar 31, 2017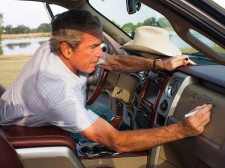 CLEVELAND, TN, March 31, 2017 (Newswire.com) - The prestigious auction company Barrett Jackson announced this week that a white 2009 King Ranch F-150 4X4 pickup autographed twice by President George W. Bush would be auctioned on Saturday April 8 at approximately 3:30pm at the South Florida Fairgrounds. The event will be broadcast nationwide on the Velocity channel.
Since the announcement was made public, the auction has generated tremendous interest on social media.  The truck was purchased by Allan Jones, the founder and CEO of Check Into Cash in 2013 at that year's Palm Beach Barrett Jackson auction. Prior to the auction, Bush kept the truck at his Prairie Chapel Ranch in Crawford, TX after he left the White House in 2009. It still has the original license plates.
"We originally bought the President's truck to benefit the National Guard Youth Foundation and always intended to resell it for charity," said Jones. "I never imagined the F-150 would become such a collectible because the President autographed it not just once – but twice!"
Jones explained that after he purchased the truck in 2013, the Bush signature was accidentally washed off during routine maintenance. When he realized what had happened, Jones asked the President if he would sign it again so that truck could be resold for charity. 
"President Bush graciously agreed to help us and the rest is history," Jones said. "He autographed the F-150 in the exact same location on the right airbag panel. Once word got out, everyone wanted to know when the auction was taking place."
Jones, a regular on Fox News, also gained national attention for rescuing Hardwick Clothes – America's oldest tailor-made clothing manufacturer – from bankruptcy in 2014. He is well-known for donating to youth sports. The businessman donated wrestling buildings to two high schools in his hometown of Cleveland, TN, and donated the Allan Jones Aquatic Center to the University of Tennessee at Knoxville in 2008.
Jones also received national attention in 2011 when he partnered with Randy Boyd (formerly Tennessee's Economic & Community Development Commissioner and a leading candidate for governor) on the Tennessee Achieves program to ensure every graduating high school senior in Bradley County, TN, could attend college free of charge. The landmark program was such a success that it was later renamed "Tennessee Promise" and adopted statewide by Gov. Bill Haslam.
Most recently, Jones was given the 2017 Distinguished Service Award by the Tennessee Interscholastic Athletic Administrator's Association for his philanthropy to local schools.
Jones has designated that all the proceeds from the April 8 sale of the truck will go to the Community Foundation of Cleveland and Bradley County, TN [a community based 501 (C) (3) qualified charity] for the further designated purpose of supporting one of the nation's top youth wrestling clubs (the Higher Calling Wrestling Club, Inc. in Tennessee) and the Dan Gable Museum in Waterloo, IA that benefits youth wrestling - named after the most dominant wrestler in history.
"Dan Gable is a wrestling legend whose name is famous all over the world," said Jones. "He had a high school and college record of 181-1 and as an Olympic competitor in the Munich Games of 1972, he brought home the Gold Medal and was undefeated and un-scored upon.  As a college wrestler at Iowa State University, he was a two-time NCAA champion/three-time finalist and as a coach brought Iowa 15 NCAA titles – nine in a row from 1978 to 1986 - and 21 straight Big Ten team titles, not to mention Coach of the Year three times.  It is our pleasure to honor this legend and help continue the fine work that he does."
Gable noted even before the 2017 auction, the Bush truck had raised hundreds of thousands of dollars for veterans and Wounded Warrior programs.
"Now, thanks to Janie and Allan Jones and the new purchaser, this special truck will help countless young boys and girls participating in many wrestling programs," said Gable. "It will also benefit the Dan Gable Museum's expansion of its Teaching Center, Wrestling Room, Theater and Museum."
Gable added: "The monies from this auction will benefit thousands of youth wrestlers in the next few years as well as the museum. This is history." 
See Barrett-Jackson.com or click http://bit.ly/2mPJZAT for more on the West Palm Beach auction.
Source: Check Into Cash
Share:
---
Categories: Funding, Automotive, Charitable Contributions
Tags: Auction, Automotive, Charitable Contributions, President Bush
---