Gama Sonic Introduces Next Generation Solar Shed Light
Press Release
-
updated: Oct 9, 2018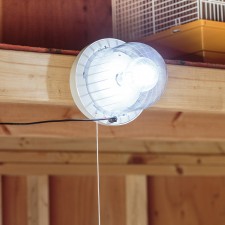 ATLANTA, October 9, 2018 (Newswire.com) - Gama Sonic USA Inc, the leading manufacturer of outdoor solar-powered lighting solutions, released the next generation of their popular Light My Shed series, the Light My Shed IV. This cost-efficient and DIY-friendly outdoor solar light is the latest contribution to their utility product line which includes a variety of solar-powered security, barn, shed and flood lights with motion sensor activation.
The Light My Shed IV operates entirely on solar power harnessed from sunlight, eliminating the hassle of having to hire a contractor or installation specialist to mess with wiring during the installation process.
Aside from cosmetic differences, what sets apart the Light My Shed IV from previous models is the integration of the new GS Solar LED Light Bulb technology. Resembling the 360-degree light spread of traditional incandescent bulbs and with multiple LEDs positioned in a strategic grouping at the bulb's center, this specially crafted bulb will illuminate 250/500 lumens in a bright-white color when turned on.
"Running electrical wiring to a stand-alone utility building can be a time-consuming and expensive endeavor, something all homeowners loathe. With the Light My Shed IV, installation only requires a few household tools and takes minutes to set-up," says Mike Brown, vice president of sales at Gama Sonic USA Inc. "The new solar shed light is constructed of heavy-duty resin and is our most versatile, durable and brightest utility light to date." 
The Light My Shed IV series features the GS-16B, which includes one lamp head, and the GS-16B2 which includes two lamp heads. Additionally, a secondary kit is available for the GS-16B model only that will give the solar shed light fixture an additional lamp head. 
This industrial solar shed light can function as an individual work-space light or brighten a vast space in a shed, barn, greenhouse, and even a chicken coop. After the detachable solar panel has received 4-6 hours of direct sunlight, the light will have a duration of 2-4 hours (depending on the model). 
For more information about Gama Sonic and the Light My Shed IV solar powered shed light visit www.gamasonic.com 
About Gama Sonic: 
Gama Sonic is a leading manufacturer and distributor of upscale outdoor solar lighting solutions for residential and commercial properties. Founded in 1985 as a manufacturing and marketing company of utility and emergency lights, Gama Sonic has since expanded to offer full series of solar lighting fixtures in various application types with products installed worldwide. Gama Sonic strives to create innovative, cost-efficient and custom outdoor solar lighting with their patented technologies to fit various markets. Gama Sonic distributes worldwide. 
### 
Source: Gama Sonic Solar Lighting
---
Categories: Gardens and Landscape
Tags: gardening, home and garden, outdoor lighting, renewable energy, solar lighting, technology
---