Gama Sonic Introduces Aspen Solar Post Light to Upscale Product Line
Press Release
-
updated: Sep 6, 2018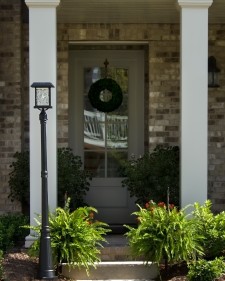 ATLANTA, September 6, 2018 (Newswire.com) - Gama Sonic USA Inc, the leading manufacturer of upscale outdoor solar-powered lighting solutions, introduced the newest addition to their impressive product catalog, the Aspen Solar Post Light. This is the first item released within the Aspen family series and incorporates the ability to be attached on any existing 3-inch outside diameter pole.
Since the Aspen Solar Post Light functions entirely on solar-power harnessed from sunlight, it eliminates the hassle of hiring contractors or messing with electrical wiring during the installation process.
Despite the many inefficient solar landscape lights on the market, style and quality is not something one has to forfeit when deciding to integrate to Gama Sonic solar landscape lighting. The Aspen offers the same upscale design and incandescent illumination fundamentals of a traditional gas or electric light fixture while adding a cost and energy-efficient benefit.
Showcasing a design that features a blend of modern charm and enchanting elements of a traditional Japanese tea-house, the Aspen Solar Post Light is crafted from weather-resistant cast aluminum with beautiful transparent rain glass. Ideal for illuminating poorly lit paths, driveways and gardens.
Gama Sonic actively evaluates the market to see what is trending in the lighting industry and in different parts of the region. Mike Brown, Vice President of Sales, says the direction with the Aspen Solar Post Light was to create a fixture with a focus on ornate glass panes.
"The elaborate glass integrated within the Aspen Solar Lamp is a new avenue we are experimenting with," Brown said. "This solar-powered post light is a great piece for residential homeowners who want to add a subtle decorative statement to their landscaping while overall enhancing the nightly ambience."
Majority of the solar lamp posts Gama Sonic manufactures operate automatically from dusk-to-dawn. Once the sun goes down and after the Aspen has charged in direct sunlight, it will turn on and illuminate 120 lumens in a warm-white color temperature for up to 12 hours.
Let the Aspen Solar Post Light be a beacon of tranquility and harmony for your home.
For more information please visit: www.gamasonic.com
###
About Gama Sonic:
Gama Sonic is a leading manufacturer and distributor of upscale outdoor solar lighting solutions for residential and commercial properties. Founded in 1985 as a manufacturing and marketing company of utility and emergency lights, Gama Sonic has since expanded to offer a full series of solar lighting fixtures in various application types with products installed worldwide. Gama Sonic strives to create innovative, cost-efficient and custom outdoor solar lighting with their patented technologies to fit various markets. Gama Sonic distributes worldwide.
Source: Gama Sonic Solar Lighting
Share:
---
Categories: Lamps and Lighting
Tags: gardening, home and garden, outdoor lighting, renewable energy, solar lighting, solar power
---