G.O.O.D. Music Artist Malik Yusef Releases His Album
The Grammy Award Winning Artist Also Releases Dates for His Upcoming Tour
Press Release
-
updated: Nov 19, 2018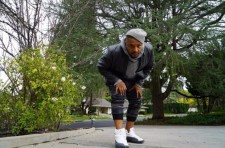 LOS ANGELES, November 19, 2018 (Newswire.com) - Six-time Grammy-winning artist, poet, super producer, songwriter and philanthropist Malik Yusef aka DJ GOOD Music the Angel, released his album titled Matte Blaque – The Ballad of an American Dope Boy: Caballo Bianco and highly anticipated tour dates.
"This project is very personal to me. It's the story about a dope boy from the perspective of that dope boy," said Malik. "The world is very critical of people who have sold drugs, and this album humanizes people in that position."
The Matte Blaque Experience – The Ballad of an American Dope Boy: White Horse is the first volume of Malik's The Matte Blaque Experience. He combines the influence of the south side of Chicago rap style with a mixture of his unique and creative melodies, and lyrics inclined by his spoken word poetry.
"Caballo Bianco is just the first album of a three-part series," said Malik. "The whole project will challenge minds and make you think twice about the circumstances and challenges some face on a daily basis. It sheds light on a subject the world rarely talks about."
Born and raised in Chicago's south side Malik started his venture into the music industry as a spoken word poet. Since then he signed with the world's largest music publisher, Universal Music Publishing, and is part of Kanye West's G.O.O.D. Music label, he's affiliated with Wiz Khalifa's Taylor Gang and Jay Z's Rock Nation. Malik has been able to build and maintain incredible industry connections and relationships by performing and collaborating; and serving the likes of Beyoncé, Kanye West, John Legend, Katy Perry, Rihanna, JAY Z, Vic Mensa, Ty Dolla $ign and many more. His talents have taken him to perform and work across the world.
Dates for Malik's upcoming tour can be found at MalikYusef.com, and on his Instagram @MalikYusef100.
# # #
Please Note: Follow Malik Yusef on Twitter, Facebook and Instagram. For more information about Malik Yusef please visit https://www.malikyusefjones.com. Videos of Malik Yusef are also available to watch on YouTube at https://www.youtube.com/user/TheRealMalikYusef.
Source: Malik Yusef
Share:
---
Categories: Music
Tags: Album Release, Beyonce, Chicago Music, John Legend, Kanye West, New Albums, South Side Chicago, Ty Dollar $ign, Vic Mensa
---