FUMGO Explains Why Crypto Trading is Profitable
Press Release
-
updated: Mar 4, 2019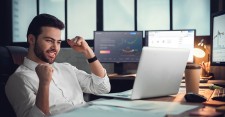 KIEV, Ukraine, March 4, 2019 (Newswire.com) - FUMGO crypto trading platform proves that, nowadays, crypto trading is profitable. Even though the cryptocurrency market is very young compared to the stock markets, it's gained lots of followers and investment. Since 2014, the crypto market has been getting more and more interest from enthusiasts and investors in digital assets. Over the past three years, market capitalization increased by more than 6,000 percent. During the same time, infrastructure, tools, new tokens, and coins have been actively developing. These changes brought new opportunities to traders. 
Trade relations between market participants reached a new, more developed level and gone beyond the narrow crypto enthusiasts' community — most significant investments circles on crypto exchanges. In a nutshell, they have become popular, because of enormous opportunities, hidden in new technology.
Volatility is a trader's opportunity
Every new technology brings new benefit along with different challenges. It is a well-known fact that cryptocurrencies are very volatile. In September 2017, Bitcoin cost $3,600 and by the end of the year, it almost reached $20,000. Food for thought for people who are still new to this industry but aware of trading.
The question is how a trader can predict the changes in the market and decide which strategy to follow. As the stock exchanges, crypto trading works with technical and fundamental analyses as well as the market psychology principles. It means that traders can enjoy all the possibilities of volatile rates and handle risk mitigation using good old analyses.
Trading without borders
Owners of cryptocurrencies, who want to increase their profit and make their assets work, operate on cryptocurrency exchanges. There are lots of differences from stock exchanges:
Ownership. Every trader uses his assets without any loans from brokers. Leverage is only available on major cryptocurrency exchanges, but it is not required to enter the market.
No entry barrier. The first deposit on cryptocurrency exchange depends on the trader's financial capability. The order amount starts from $10. Unlike the Forex market where a single transaction is bound to the size of the lot and costs minimum 10,000 currency units. 
No brokers. A trader doesn't have to entrust his assets to other people and can trade on any exchange by himself. Moreover, there are no hidden brokers' spreads on cryptocurrency exchanges; the commission is fixed, independent of the size of a trade.
No license. There is no need for any permit or certification to become a trader. If you have the knowledge and the strategy, this bureaucracy is unnecessary.
Flexible work hours. You can trade cryptocurrency 24/7 even on Christmas.
Withdraw-friendly. Virtual funds can immediately be transferred to your wallet from cryptocurrency exchange. In stock markets, it can take up to 3 days.
The differences of crypto exchanges from stock markets can give an enormous advantage to a trader who dives into cryptocurrencies. But, exchanges significantly limit traders' ability to implement their strategies. For instance, there is no option to set combined functions – both Stop Loss and Take Profit, which impedes risk management.
These limitations bring crypto trading terminals to the market – a new type of service that allows setting Stop Loss and Take Profit parameters which are carried out automatically when a deal is executed. This, in turn, opens a way to more advanced features like Trailing options and Conditional orders.
Those, who already trade crypto on exchanges or interested in it, should pay attention to the crypto trading terminal FUMGO. Traders can deliver their strategies to the market in full force and effect with smart trading functions available there. Moreover, it is possible to be even more effective with additional features of price tracking and trade signals.
Crypto trading is profitable as long as you can transform industry challenges into opportunities. Nobody is saying you will become a whale after the first deal, but it can be much easier if you trade regularly and use a variety of new opportunities to maximize your profit.
Source: FUMGO Crypto Trading Terminal
Share:
---
Categories: Cryptocurrency
Tags: altcoin, bitcoin, cryptocurrency, cryptoexchange, cryptotrading, exchange, trading, trading terminal
---