FUMGO Crypto Trading Terminal Simplifies the Trading Process for Both - New and Pro Traders
Press Release
-
updated: Mar 28, 2019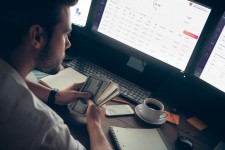 KIEV, Ukraine, March 28, 2019 (Newswire.com) - Cryptocurrency market rules differ from generally accepted and well-established principles of the traditional trade market. The rapidly-growing industry has its advantages and challenges which makes investing and trading cryptocurrency effortful. But, at least the traders are still the same – they aim to benefit from the new market while reducing the risks as much as possible. Traders use crypto exchanges to cope with the challenges, but it is insufficient and limits trading opportunities. The crypto trading terminal FUMGO solves these main difficulties faced by traders:
Traders tend to diversify their assets keeping them on different exchanges. Management of multiple accounts across various exchanges with different interfaces complicates trading. The worst part is that it hinders traders' ability to react quickly to the movement of a highly volatile crypto market.
A trader may need to change a thought-out strategy because most of the exchanges don't provide the means to implement it. For instance, they don't allow to set Take Profit and Stop Loss at the same time, which limits risk control and diminishes profit potential of the strategy.
Nevertheless, trading terminals are becoming the primary facilitator of crypto trading. FUMGO provides key advantages for all traders – newcomers and pro, helping them save time and nerves:
The strategy is the trader's discretion.  Every trader aims to make his strategy worthwhile. Сryptocurrency trading platforms provide a wide range of smart trading functions such as trailing Buy and Sell, Take Profit, Stop Loss, and others. These tools allow building a comprehensive strategy which can handle the risks and bring more profit opportunities.
More doesn't have to be harder.  Controlling multiple accounts is complicated and time-consuming. Crypto trading terminal provides access to all accounts via one interface, cutting time spent on management and a trader's reaction to the market movement.
Opportunity for newbies. Building a trading strategy is not simple, especially for traders who are new to this market. Few crypto terminals provide a mirror trading feature which is available on FUMGO. It allows copying a strategy of trading experts. What could be better for an inexperienced trader than to follow a pro trader?​​
Trade 24/7. It is impossible to stay awake night and day to keep track of the volatile crypto market. Automated trading on crypto terminal almost eliminates this problem. Accordingly, traders won't miss out on important market movement. ​
Simple to use. Nobody wants to waste time, dealing with an inconvenient service. The trading terminal has a user-friendly interface, clear how-to, and technical support if you're stuck completely.
The challenge of investing and trading cryptocurrency remains high – it is time-consuming, requires a lot of experience and swapping between exchanges. Bringing all the best trading features together, FUMGO crypto trading terminal overcomes these challenges and proves that the trading process can be more efficient. Convenient interface for multiple account management with one service, along with automation features provided by FUMGO spares time and grants a night sleep. Mirror trading and signals allow the trader to check the performance of experienced traders and decide which strategy to follow. These features will be appreciated by beginners or those without loads of time to learn investments.
Source: FUMGO Crypto Trading Terminal
Share:
---
Categories: Cryptocurrency
Tags: altcoin, bitcoin, cryptocurrency, cryptoexchange, cryptoplatforms, cryptotrading, exchange, trading, trading terminal
---