Fulldive Launches Evry Review, a Mobile App That Gathers All Big Review Sites Like Amazon, TripAdvisor and Yelp in One Place
Fulldive introducing a new mobile app, Evry Review in Beta
Press Release
-
updated: Mar 25, 2019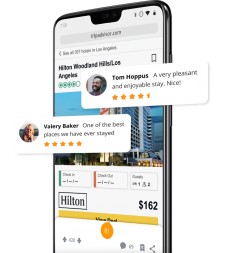 SAN FRANCISCO, March 7, 2019 (Newswire.com) - Pioneering mobile VR platform, Fulldive today announced the launch of Evry Review, a mobile application which aims to bring closer users to products they love.
With a team consisting of designers and engineers who have worked with leading technology firms, including Apple, Pinterest, and Tesla, Fulldive's vision is to redefine the way people connect together in relations with products and services they love.
With Evry Review, users can bring all the most relevant review platforms, such as Amazon for products, TripAdvisor for travel sites, and Yelp for restaurants, under one interface so users can easily find opinions, feedback, and information about things they look for, based on their social connection's ratings. 
Besides, users can integrate all news and social media apps into Evry Review, which makes it easier to view all their favorite content in one place, as well as share, comment, and tag friends.
The app has been launched in its beta version, and many had the opportunity to try it.
Fulldive co-founder and CEO, Yosen Utomo said, "Our mission is to create an application which can simplify people's life by connecting users closer to things they love. We've built Evry Review with everyone in mind."
"It's amazing to realize how much time we actually spend looking for information when it could actually be so simple," says Joel, who is one of the people who had the chance to check out the app in advance. He is one of many who had the opportunity to experience the simple and innovative shift that this app brings.
The team at Fulldive went to great lengths to ensure that this app would provide a truly innovative and versatile platform for users, redefining the way they browse through review websites and other content, especially on mobile devices. This app represents a unique alternative and a world of possibilities - not only connecting all reviews, but also feedback from friends and people that the users will know and trust. It's all about perspective, and Evry Review can be an insightful way to find the information users are looking for, from the right sources.
The beta app has recently been released publicly on Google Play.
To download the Evry Review beta visit: https://evryreview.com
Press Contact: grow@evryfeed.com
Source: Fulldive
Share:
---
Categories: Computer Software
Tags: Amazon, Android, app, application, browser, IMDB, mobile, review, RottenTomatoes, social, TripAdvisor, Yelp
---
Related Files
Additional Links