Fulcrum Labs Takes Home a Top Honor in CLO Magazine's 2019 Learning in Practice Awards
Press Release
•
updated: Oct 21, 2019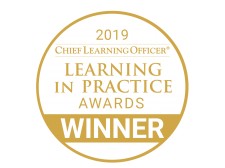 LOS ANGELES, October 21, 2019 (Newswire.com) - ​​Fulcrum Labs, the industry leader in AI-powered adaptive learning technology, analytics and training outcomes, today announced it has been awarded gold in the "Excellence in Partnership" category of CLO Magazine's 2019 Learning in Practice Awards.
Fulcrum Labs was recognized for its collaboration with partner the Aviation Institute of Maintenance (AIM), one of the nation's premier aviation mechanic training programs. The two companies first began their partnership in 2017, when Fulcrum Labs was hired to create and deliver an adaptive test preparation program that would encourage AIM learners to sit for and pass critical FAA certification exams. In the ensuing years, the two companies have leveraged Fulcrum's proprietary behavior and knowledge mapping (BKM™) capabilities and predictive analytics to fine-tune the learning strategy, content and delivery in order to meet AIM's corporate goals and program objectives.
To that end, the two companies recently reported that their test prep program has increased the total number of AIM graduates, encouraged 25 percent higher exam participation due to improved confidence and improved FAA certification pass rates to more than 90 percent.
"The success of our partnership with Fulcrum Labs has empowered us to set new, exciting goals for our company," said Joel English, Vice President at AIM. "Armed with this technology, we're committed to producing 20 percent – or one in every five – of all FAA-certified aviation mechanics for the industry by 2020."
AIM also hopes to increase pass rates by an additional 25 percent by 2021, moving the aviation industry toward unprecedented certification rates and filling a persistent and critical skill gap that has plagued the industry for years. No doubt, the companies will continue to expand on their already fruitful partnership to achieve these goals together.
"This partnership award underscores our dedication to building strong client relationships," said Patrick Weir, CEO of Fulcrum Labs. "It validates our commitment and success, executing our mission to turn students (and employees) into learners and turn learners into confident subject matter masters."
Since 2003, the Chief Learning Officer Learning in Practice awards have recognized learning leaders who demonstrate excellence in the design and delivery of employee development programs through a combination of qualities such as leadership, vision, business acumen and strategic alignment.
Learning in Practice winners were announced at the CLO Fall Symposium on Oct. 14, 2019, in Chicago. For more information about these awards, visit: https://learninginpractice.clomedia.com/.
####
About Fulcrum Labs
Fulcrum Labs is a cloud-based, SaaS learning solution that is, first and foremost, outcomes-driven. The company's proprietary, Adaptive 3.0 training platform leverages AI, Machine Learning and data-science-driven predictive analytics to: reduce training times and costs; build and verify learner confidence and skill mastery; nurture learner autonomy and self-remediation; identify those at risk of not applying the learning; evaluate the integrity of course content; and foster a culture of learning within corporations and academic institutions. Fulcrum's platform can also assess an organization's training gaps and the efficacy of existing L&D delivery systems. In a Bill and Melinda Gates Foundation study, Fulcrum's platform was the only adaptive system that was able to demonstrably improve both learning outcomes and increase learner course satisfaction. It has been awarded 16 consecutive Brandon Hall Awards over the past three years, in partnership with its customers, including Gold in Best Learning Program Supporting a Change Transformation Business Strategy, Gold in Best Results of a Learning Program and Gold in Best Advancement in Technology for Testing and Learning Evaluation; Fulcrum was the winner of EdTech Digest's 2018 Best Professional Skills Solution award; and the company was previously honored with a bronze award in CLO Magazine's 2017 Learning in Practice Awards. For more information on Fulcrum Labs, please visit fulcrumlabs.ai.
About Aviation Institute of Maintenance
Aviation Institute of Maintenance (AIM) is the leader in aviation maintenance training. AIM has a network of 12 aviation maintenance schools with campuses coast-to-coast across the United States and headquarters located in Virginia Beach, Virginia. AIM students are trained to meet the increasing global demands of commercial, cargo, corporate and private aviation employers. AIM graduates are eligible to take the FAA exams necessary to obtain their mechanic's certificate with ratings in both Airframe and Powerplant. AIM's campuses are located in the following major metro areas: Atlanta, Philadelphia, Dallas, Houston, Indianapolis, Las Vegas, Washington, D.C., Kansas City, Missouri, Oakland, California, Orlando, Florida, and Norfolk, Virginia. Learn more at: http://www.AviationMaintenance.edu.
Source: Fulcrum Labs
Related Media
Tags
Additional Links