Fulcrum Labs Approved as First-Ever Adaptive Learning Provider to the National Association of State Boards of Accountancy's Official Registry of Sponsors
Press Release
-
updated: Jun 2, 2020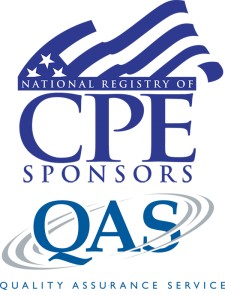 SALT LAKE CITY, June 2, 2020 (Newswire.com) - Fulcrum Labs, an industry leader in AI-powered adaptive learning technology, predictive analytics and measurable performance outcomes, today announced that it is the first-ever adaptive learning platform to be approved as an official provider of adaptive learning courses and a member of the National Association of State Boards of Accountancy's (NASBA) Registry of Continuing Professional Education (CPE) Sponsors.
For accounting firms and financial departments looking to improve training efficiency and objectively verify proficiency, the inclusion of Fulcrum Labs as the first-ever adaptive learning platform is a most welcome one. State Boards of Accountancy require certified public accountants (CPAs) to earn continuing professional education (CPE) credits through companies approved on the National Registry of CPE Sponsors.
"Our accounting partners are focused on maximizing output at the highest caliber, but they also have a deep commitment to ensure the utmost levels of employee proficiency with compliance and other critical knowledge areas of the business," said Patrick Weir, CEO of Fulcrum Labs. "Fulcrum Labs' Adaptive 3.0 learning platform helps accounting firms and financial departments achieve balance between these two demands - driving their learners to mastery much more efficiently and effectively than other learning methodologies, similar to the transformational results we've seen time after time with other industries. At Fulcrum Labs' core, we are a data science company, and it's this lens in which we approach and optimize our adaptive learning platform."
Fulcrum Labs' Adaptive 3.0 Learning technology leverages AI and predictive analytics to greatly reduce the time to proficiency, compared to other traditional and e-learning methodologies, and helps organizations develop and verify that workforces are equipped with the knowledge they need to apply and perform at the highest levels with confidence. The platform utilizes its proprietary Behavior & Knowledge Mapping (BKM™) engines, which not only analyze and adjust for knowledge acquisition, moreover, it optimizes for how a learner interacts with the content from a behavioral standpoint, offering up prescriptive nudges and feedback, much like a one-on-one, in-person coach, at scale. As a result, each learner is coached and delivered a personalized, optimal learning pathway and emerges equipped with the knowledge to succeed and the confidence to apply it back on the job. For this work, Fulcrum Labs has won dozens of industry awards.
For more information about the NASBA Registry of Continuing Professional Education (CPE) Sponsors, visit: NASBAregistry.org.
About Fulcrum Labs
Fulcrum Labs' mission is to turn students (or employees) into learners and turn learners into confident subject matter masters. Fulcrum Labs is a cloud-based, SaaS business solution that is, first and foremost, outcomes-driven. The company's proprietary, Adaptive 3.0 training platform leverages AI, Machine Learning and data-science-driven predictive analytics to: reduce training times and costs; verify employee confidence and skills mastery; identify those at risk of not applying the training; and evaluate the integrity of course content. Fulcrum Labs' platform can also assess an organization's training gaps and the efficacy of existing L&D delivery systems. Fulcrum Labs has been awarded 19 consecutive Brandon Hall Excellence Awards over the past three years; it was the recipient of Business Intelligence Group's 2019 BIG Innovation award; it won Gold in CLO Magazine's 2019 Learning in Practice Awards; and in 2020 it was awarded the Association for Talent Development's (ATD) prestigious Excellence in Practice Award. For more information on Fulcrum Labs, please visit fulcrumlabs.ai.
Source: ​Fulcrum Labs
Share:
---
Categories: Educational Technology
Tags: Adaptive 3.0 Training Platform, Fulcrum Labs, NASBA
---