From the Air Force to the Ballet, One Dancer's Leap to Fame
Press Release
•
updated: Jan 8, 2019
Jackson Resident David Felicie Stars as Mowgli in World Premiere of "The Jungle Book"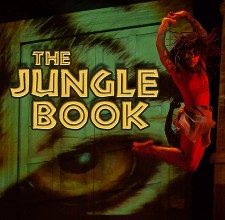 DEAL PARK, N.J., January 8, 2019 (Newswire.com) - David Felicie of Jackson, NJ, will star in the role of Mowgli in the world premiere of the Axelrod Contemporary Ballet Theater's production of "The Jungle Book," February 2 and 9 at 8:00 P.M., Feb. 3 at 3:00 P.M., and Feb. 10 at 1:00 P.M. and 5:00 P.M.
Felicie has been a dancer for ten years, but this debut marks his first appearance as a guest artist with the Axelrod Contemporary Ballet as well as his return to the stage after serving in the United States Air Force.
"The Jungle Book," an exotic dance musical where east meets west, is an exciting retelling of Rudyard Kipling's collection of stories about a boy adopted and raised by wolves, who fulfills his quest for identity, love, and belonging.
"I'm thrilled to have an opportunity to work with Artistic Director and Choreographer Gabriel Chajnik and his team on what I consider a ground-breaking theatrical ballet," said Felicie. "The character of Mowgli is exciting because he's grounded and raw. His beast-like, animalistic movements are very masculine and powerful."
Some of Mr. Felicie's other favored roles throughout his dancing career include Romeo ("R&J"), Cavalier ("Nutcracker"), Prince Phillip ("Sleeping Beauty"), and Jean de Brienne ("Raymonda").
"I'm honored to be working with talent of this caliber because there are so few professional ballet companies in New Jersey, and, until now, there were none in Monmouth County," continued Felicie.
"Gabriel's [Chajnik] approach is not the norm. He and his team really take time to get to know each performer, and unlike many directors/choreographers, he's open to everyone's input. That inclusive, collaborative approach is rare in this business, but the result is a natural, organic flow of creativity that brings forth an outstanding work of artistic excellence!"
"David's service to our country illustrates his generosity and his spirit of dedication to others," says Chajnik. "This aspect of his character translates to his performance, which is strong, expansive, and captivating."
While not on the stage, you may catch a glimpse of Felicie in his natural habitat cruising the open roads of NJ on his motorcycle, playing table tennis, or perhaps enjoying a cold one at a local dive. Felicie noted that he's grateful for this opportunity and immensely thankful for the love and support from family, friends, and the community.
"This is the first in our upcoming series of exciting and uniquely fun ballets for 2019," says Chajnik. "Jungle Book is not your run-of-the-mill ballet! It's a wholly-immersive experience that incorporates dazzling projection technology, dramatic sets, lighting, and costumes, as well as live musicians and a group of high-caliber professional dancers."
To subscribe to the annual ballet series or order individual tickets, visit www.axelrodartscenter.com or call the box office at (732) 531-9106 ext. 14. Ticket prices for Jungle Book are: Premium Adult $54; Regular Adult $48; Premium Senior $46; Regular Senior $40; Students $26. Group, senior and student discounts are available.
About the Axelrod Performing Arts Center
The Axelrod Performing Arts Center is New Jersey's newest professional theater, offering main-stage musicals with casts and production teams from New York City and beyond as well as original concerts throughout the year. The Axelrod fosters artistic excellence by showcasing varied and distinct cultural programs that enrich the imaginative, intellectual, and creative soul while cultivating an appreciation of diverse communities through the pursuit of the arts. For more information, please visit www.axelrodartscenter.com.
Source: Axelrod Contemporary Ballet Theater
Related Media