From Cannes to Prime, LIFE IN COLOR Comes Home
Press Release
•
updated: Mar 27, 2019
Samera Entertainment, SCMN Consulting and Bounty Films are proud to announce the premiere of LIFE IN COLOR on streaming platforms across the globe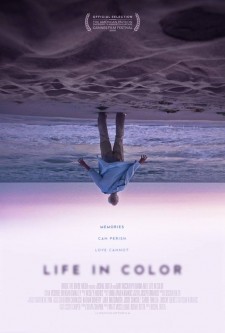 LOS ANGELES, March 27, 2019 (Newswire.com) - ​Last May, LIFE IN COLOR had the prestigious honor of being screened as part of The American Pavilion Emerging Filmmaker Showcase at the 2018 Cannes Film Festival. This year, LIFE IN COLOR comes home to Amazon Prime and other streaming sites from all over the world. To mark the occasion, Samera Entertainment and SCMN Consulting give viewers an inside look into this harrowing LGBT drama.
"We are unbelievably excited about this," director Bishal Dutta said about the accomplishment.
Directed by Bishal Dutta and co-written by Dutta and Matt McClelland, LIFE IN COLOR is a socially conscious short drama about a closeted gay man suffering from Alzheimer's, who struggles against his strong-willed daughter to hold on to the memory of his long-lost lover. Bridge the Divide Media produced the film, along with support and backing from SCMN Consulting, Santa Monica College and Samera Entertainment. The film has sparked discussion amongst LGBTQ advocates, as well as people and families affected by degenerative diseases such as Alzheimer's.
During its festival run, LIFE IN COLOR represented the Santa Monica College Film Program, of which many of the crew were alumni or current students, including director Bishal Dutta and producer Olivia Shapiro.
LIFE IN COLOR is the joint effort of a dedicated creative group headed by the director-producer team of Bishal Dutta and Olivia Shapiro. Included in the crew are cinematographer Matthew Lynn, production designer Oscar Huezo, editor Feriba Karaoc, composer Wesley Hughes and supervising sound editor Joseph DiMarco. Their concentrated contributions to the project have allowed it to thrive in the festival circuit, a journey that culminated with its premiere at Cannes.
And now, LIFE IN COLOR has been made available to watch on streaming platforms worldwide through the distribution efforts of Australia-based company Bounty Entertainment. Leslie Morris, marketing manager at Bounty Films, compliments Bishal and company on their unique approach to collaboration:
"The way this team works, mixed with their visual style, is something all aspiring filmmakers should strive for. I'm proud that they're bringing awareness to a serious social issue that's never been explored through a cinematic lens before."
Co-producer Sharry Flaherty of Samera Entertainment was also honored to be a part of bringing this story to the screen:
"I'm excited to be creating with Bishal and Bridge the Divide. They have a great eye for visuals. I'm proud to be on board as a co-producer and look forward to having Samera Entertainment involved in their upcoming projects."
To follow up LIFE IN COLOR, Bishal Dutta and Bridge the Divide Media are hard at work on their latest project, INFERNO, a simmering thriller that is sure to have a unique visual flair.
To stream LIFE IN COLOR via Amazon Prime, be sure to click the link below:
About Bounty Films:
Based in Australia and complemented by a passionate and dedicated staff who have over 20 years of experience in the entertainment industry, Bounty is committed to releasing films that are both entertaining and culturally significant.
About Samera Entertainment:
Sharry Flaherty CEO and founder of Samera Entertainment is a seasoned and well-known film producer and acquisitions agent. Currently, she acquires films for several of the top distribution companies for both domestic and foreign sales.
About Bridge the Divide Media:
Bridge the Divide Media's mission is to provide "A voice for the voiceless." They focus on telling the stories of minorities and people on the fringes of society. Their goal is to empower filmmakers with stories that go beyond the fringes of society. Their goal is to empower filmmakers with stories that go beyond the normal confines of film-making and endeavor to showcase the breadth of talent that lies in all cultures.
Source: Samera Entertainment
Related Media
Tags
Additional Links