Friday is Microsoft's XBOX 20th Anniversary and a New Controller will Level the Playing Field for PC Cross-Play by Enabling XBOXERS to use a Mouse Without a Keyboard
Press Release
•
Oct 14, 2021
The "ALT" Avatar Motion Controller is a Revolutionary, Next-Gen Gaming Device and It Is Gunning to replace Typing on Old School Gaming Keyboards! Keyboards are the Dinosaurs of the Modern Gaming World, they were designed for typing letters!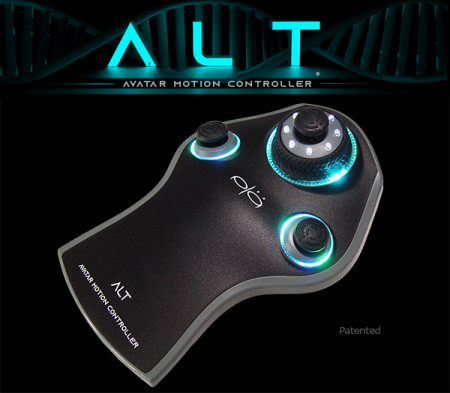 HALLOWELL, Maine, October 14, 2021 (Newswire.com) - Pla Labs has created a next-generation, multi-function gaming controller that will usher in a new era in fair cross-play gaming. Founder Ed Larkin, a former member of Razer's Innovation Design Team, says that, in 2010, Microsoft's XBOX division had PC gamers cross-play against XBOXers. The outcome was that even mediocre PC gamers "destroyed" the best XBOXERS every time. That was no surprise to the PC gamers, but why?
Simply because precision aiming with a mouse is key to becoming a highly skilled or professional gamer, and that is the reason the XBOXers lost. Fast, precision aiming using a console controller's extremely limited motion thumbstick is technically impossible, which is why they have aim assist.
So why don't console gamers just use a mouse and keyboard to cross play? Because typing to play is unnatural, unrealistic, and it takes a long time to master. Typing a dozen or more keys hundreds of times an hour to play is archaic and difficult, so it is easier to just use a console controller. It's the same reason why many new PC gamers are using console controllers.
The "ALT" Avatar Motion Controller works with any mouse and was designed to play games, not type them. It combines multiple user replaceable joysticks and features powerful software drivers that make it extremely user-customizable. It can execute any keyboard or macro commands, and it features a built-in analog steering wheel, which is a first for any video gaming controller. Not having to type on a keyboard and aiming with a mouse are the keys to leveling the playing field for cross-play.
The ALT controller delivers a gaming experience that is easier, faster and more realistic than typing for any gamer PC or console. The ALT controller's pre-order launch price is $150, $100 off the full price of $250 for a very limited time, and you can also enter a raffle to win one of 100 controllers for $25.
Ed Larkin is a veteran FPS gamer and has been designing video gaming hardware for over 30 years. He invented the original Mouse Bungee, which is used by millions of gamers worldwide. In 2010, he sold the Mouse Bungee to Min at Razer. Ed was unable to convince any companies to license and make this next-gen controller because it could hurt their gaming keyboard sales, so he decided to make it on his own. It took over six years of R&D, and it goes on sale today.
To learn more about the controller, place a pre-order or enter the raffle to win one, visit plalabs.com today.
Source: Pla Labs LLC