French Artist Julien Durix Launches His Genesis NFT Collection 'Like a Brush'
Press Release
•
Aug 15, 2022
Julien Durix is announcing the launch of "Like A Brush," his first NFT Collection.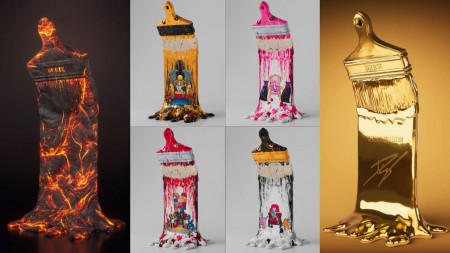 Paris, France, August 15, 2022 (Newswire.com) - Durix is a popular artist within contemporary art circles, and his works have been displayed in some of the most renowned art locations in the world. This includes showings in iconic cities like New York, Monaco, Paris, Miami, and Singapore. He's released over 500 highly rated works and is presently one of the most preeminent contemporary artists of his generation. Today, Durix stands tall amongst other contemporary artists as he is not only breaking new barriers within his field, but he's also blazing new trails in new and unfamiliar territory. That is exactly what his NFT collection is all about.
Durix's new NFT collection "Like A Brush" is a collection which will be deployed on the Ethereum blockchain. The works will represent 3D brushes that are inspired by his original sculptures along designs and characters from the universe of his works. The collection will be introducing a new and unique style to the world of NFTs. The collection will bridge the gap between physical and digital art.
"Like A Brush" NFT drop is very innovative. It introduces a dynamic burn mechanism to the collection. Upon three burn windows, holders will be given the choice to burn their NFT in exchange for a physical artwork of Durix. The innovative aspect of this is that the value of the physical artwork you can redeem by burning will be different at every window.
"Entering web3 as an artist is a very exciting journey for me. Being a contemporary artist creating physical art, bridging the gap between physical and digital art is a major milestone I want to achieve with my art.
I collaborated with with the most successful French basketball player of all time in the NBA and future hall of famer, Tony Parker.
111 unique NFTs will be created together with him and the profits generated by the sale of these will be entirely donated to his charity." - Durix said when asked about the idea behind the collection and what influenced it.
This NFT collection is certain to send heat waves all across the NFT community and the world of contemporary art. The collection is, in a way, a crystallization of the two forms of art. Durix plans for it to be a memento of what can happen when web3 and contemporary art come together to create artistic value.
Today, Durix's physical artworks are extremely valuable pieces, with many going for over $50,000. If you regret not purchasing his art when it was cheaper, then you might have the opportunity to rectify that with this new collection. The mint date is yet to be announced.
Source: Julien Durix
Tags