Freightera Creates Local Sourcing Community in Response to COVID-19 Crisis in Global Supply Chains
Press Release
•
updated: Apr 14, 2020
With traditional supply chains disrupted, local sourcing offers an immediate solution for procuring urgently needed medical and other essential supplies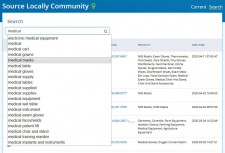 VANCOUVER, British Columbia, April 14, 2020 (Newswire.com) - ​​​​​​​​​​​​Freightera, North America's freight marketplace start-up, just opened a Source Locally Community for its members, thousands of manufacturers, distributors and retailers in Canada and the United States. This project to facilitate local sourcing was started in response to the COVID-19 disruption of conventional and global supply chains.
"After March 16, we heard from our customers that their suppliers, manufacturers, and customers were shutting down," said Eric Beckwitt, Freightera CEO. "Our team had to think fast: How can we help our customers in the current situation? What else can we do for them?"
"With COVID-19 disruption, it's time to rethink our supply chains and make them more resilient, enabling buyers to find the closest sources for every product.

Eric Beckwitt, Freightera CEO
The company realized that many of its customers needed help with sales to keep the doors open. At first, they just wanted to promote customers' products so others in the community could purchase them. They noticed from what was shipping on the Freightera platform that customers had an inventory of products missing from supermarket shelves and also medical supplies needed by governments and hospitals.
"On March 24, we emailed to over 10,000 shippers in our marketplace asking them if we could promote them and their products," continued Beckwitt. "We received a positive response and immediately started work on an internal community where our customers could see what products and supplies were still shipping, indicating the company is still in business and has the product for sale."
On April 1, Freightera received a call from the BC Government's COVID-19 Supply Hub to purchase medical and essential supplies. The team immediately sent this information to its shipper community. Hundreds of members responded. One of them even had millions of the coveted N95 masks. The company is currently working with the government agency to get these supplies to where they are most needed.
"We wanted to help our customers and tapped an opportunity far beyond our network. There has been a movement around the world towards buying from local businesses and supporting local manufacturing. It reduces shipping costs, air pollution, and greenhouse gas emissions," says Beckwitt.
The Freightera Source Locally Community is a free service open to all registered shippers on the platform.
About Freightera
Starting in North America, Freightera is automating freight transportation and increasing operating margins for carriers and businesses shipping freight. Freightera creates partnerships and systems and promotes new technologies that allow businesses to find the best prices and lowest-emission transportation options. In cooperation with SmartWay and Natural Resource Canada, Freightera created the first Lower Emission Freight Marketplace in North America. Over 12,000 manufacturers, distributors, wholesalers, and retailers in the U.S. and Canada use Freightera for 24/7 online access to billions of all-inclusive freight rates and instant bookings. Freightera is British Columbia's third fastest-growing company, 2019, according to BIV.com.
Media Contact:
Eric Beckwitt
Phone: (800) 886-4870
Source: Freightera
Additional Links