Former All-Pro NFL Fullback Ovie Mughelli Gives Tips on Big Game Party Fun on Tips on TV Blog
Press Release
•
updated: Feb 1, 2018
The Former NFL Veteran & Network TV Football Analyst Shares His Secrets for Having a Good Time Supporting his Super Team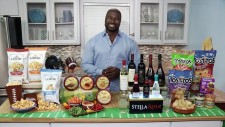 ATLANTA, February 1, 2018 (Newswire.com) - At 6-foot-1, 250 pounds, Ovie Mughelli was a bruising fullback for more than a decade in the NFL. Mughelli is a former network TV Sports analyst, so he still finds plenty of time to watch the Big Game while partying with friends. Just in time for the game, Ovie shares his can't miss Big Game party tips.
TOP SNACKS FOR WATCHING THE BIG GAME
Burgers and brats are the traditional big game foods, but sometimes it is best to mix things up. A top pick for a watching the game is Sabra Hummus, the Official Dip Sponsor of the NFL. Sabra Hummus is perfect for any Big Game spread great with chips and veggies. It is so delicious, and it is also a vegan, gluten-free, plant-based protein. It comes in more than a dozen flavors and is also great as a creamy accompaniment for traditional favorites like chicken wings and burgers. For more information, visit sabra.com.
BEVERAGES TO SERVE PARTY GUESTS
Not everyone drinks beer or sodas, which is why the plan is to "Stellabrate" the Big Game with a wine that will definitely get the party started. Stella Rosa is America's favorite semi-sweet, semi-sparkling wine and is best enjoyed chilled. It comes in a variety of flavors like the original Rosso bursting with strawberry flavor and Moscato D'Asti with a hint of peach and honey. When the game ends, "stellabrate" with the fully sparkling Stella Rosso Lux and Stella Black Lux with juicy blue and blackberry flavors. They also come in mini sizes, perfect to chill in the cooler and individually give guests! There are also some fun cocktail recipes for parties at stellarosa.com. Always remember to enjoy responsibly.
A MUST-HAVE ON THE PARTY TABLE
A tasty treat to impresses guests is G.H. Cretors, which is known for its obsessively delicious handcrafted popcorn made with real, high-quality ingredients. The classic Cretor's Mix and the new Buffalo & Ranch Mix are the perfect savory, poppable snacks to wow guests and complete any game day spread. However, make sure to pick up extra because G.H. Cretors popcorn goes fast. For more information, visit ghcretors.com.
IMPORTANT PARTY TIPS TO SHARE
When having a party, it all starts with the party invitation. This year, party guests can be invited personally by a celebrity for free. Go to Tostitos.com today to create a personalized ad as a Big Game party invitation from a collection of the most popular ad themes. It is a great way to invite friends and to get them excited about the Big Game party. Make invitations complete with talking babies, explosions, and celebrity cameos. There is a digital ad invite from Tostitos, that composes a completely unique and personalized Big Game party invitation. Tostitos is a staple for big parties and this year they are helping kick off parties in a big way.
www.tipsontv.com
Contact: tipsontv@gmail.com
https://www.youtube.com/watch?v=QeKAibd6myk
Source: Tips on TV
Related Media