Foreign Affairs Motorsport to Launch New Online European Auto Parts Catalog and Sales
Press Release
•
updated: Jun 19, 2019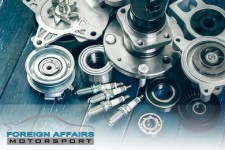 POMPANO BEACH, Fla., June 19, 2019 (Newswire.com) - ​​​​Foreign Affairs Motorsport is proud to announce an exciting new venture currently in development – an online catalog of new and used European auto parts for sale. Undoubtedly, Porsche sports car parts will be a strong focus, but it will also feature a healthy selection of parts from other European manufacturers, including BMW, Lamborghini, Ferrari, Aston Martin, McLaren, Rolls Royce, and Bentley.
In recognizing the recent upward trend of restoring classic Porsche sports cars and keeping them running like new on the road, Foreign Affairs is in a prime position to help support this enthusiast community. The parts catalog will utilize existing popular e-commerce platforms such as eBay (both auctions and buy-it-now), Amazon, and Facebook Marketplace.
Leveraging its extensive relationships with dealer networks as well as various part-out vendors across the country, Foreign Affairs Motorsport has the ability to source a wide range of hard-to-find European automotive parts that enthusiasts hunger for. And with the recent boom in classic Porsche prices, there is no doubt the demand for Porsche sports car parts and other European Classics will continue to climb.
Bobby Varela, General Manager of Foreign Affairs Motorsport, says that "many of our customers are often looking to keep their European Classics as long as they can – they simply love them. And very often, parts for vintage models are hard to come by. Available parts are scattered across the country, giving the average owner a tough time to locate them in a reasonable amount of time and effort. We try to simplify this by centralizing the parts in one place for them."
The new online Porsche and European Auto Parts Catalog will launch in the third quarter of 2019.
The catalog and online sales will be open to everyone, including other automotive repair facilities. In fact, at least a quarter of the upcoming online sales are expected to be from other automotive repair facilities across the country.
Foreign Affairs Motorsport has been a renowned independent Porsche facility in Pompano Beach servicing Porsche enthusiasts in the southeast U.S. area for more than 40 years. Their extensive expertise in Porsche vehicles has built up quite a following in the Porsche community and especially in the local Florida PCA (Porsche Club of America) regions. Over the years, the family-owned business has grown and produced many authentic Porsche performance upgrades, custom builds and restoration projects. ​
Contact:
Bobby Varela, General Manager
bobby@2fam.com
(954) 746-0488
Foreign Affairs Motorsport has been South Florida's Premier German Auto Repair, Performance & Race Facility Since 1978. Whether it's scheduled maintenance, performance/styling upgrades or full track support, they are the dealer alternative. Visit the workshop at 1935 NW 40th Ct, Pompano Beach, FL 33064 or call 954-746-0488 for more information.
# # #
Source: Foreign Affairs Motorsport
Additional Links