Foreign Affairs Motorsport Celebrates 38 Years of Quality Service Provision
Press Release
•
Oct 17, 2016
The Foreign Affairs Motorsport team will be celebrating the company's 38th birthday on the 16th of October 2016. Launched in 1978, Foreign Affairs still proudly upholds and celebrates their continued loyalty, passion, and dedication towards the German automotive community in South Florida.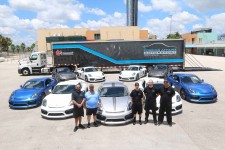 Pompano Beach, Florida, October 17, 2016 (Newswire.com) - Foreign Affairs Motorsport (FAM) was founded by Bob Varela in 1978 with the aim of providing the very best in Porsche, BMW, Audi, and Mercedes services and maintenance. From its beginnings in Oakland Park, Florida, Foreign Affairs Motorsport has continued to provide its clients with attention to detail, reasonable rates, and certified world-class service.
SInce its launch, the company has grown to offer some of the highest quality services available to the high-end German automobile community. Some of these services include:
At the core of the Foreign Affairs Motorsport team lies the unprecedented passion and dedicated towards our clients. Not only does the team strive to provide the best quality service, but they love it too. The team upholds a passion coupled with years of experience in the field of automotive services.

Jacob Varela, Marketing Director
● Preventative Maintenance
● Factory Scheduled Maintenance
● Performance and Styling
● Track Services
Foreign Affairs Motorsport is now located in Pompano Beach, Florida, and is proud to be one of the oldest family owned and operated auto service centers in South Florida. Over the years, Bob's love for automobiles and experience in racing with the likes of Preston Henn has fueled a similar passion in his children, Jared, Jacob, and Bobby.
As the service managers at Foreign Affairs Motorsport, Jared and Bobby are responsible for ensuring that each service conducted at FAM is done with the utmost quality and precision. Jacob currently holds the title of the marketing director and works tirelessly to ensure that the business will continue to run for years to come.
Whether your vehicle needs scheduled maintenance, performance upgrades, or full track support, Foreign Affairs promises to be there when you need them.
Contact the team today and join them in October to commemorate 38 years of high-end service provision to the German automobile community in South Florida.
Source: Foreign Affairs Motorsport
Related Media