Force1 Extends Their Line of Best-Selling Scoot Hands-Free Drones
Press Release
•
updated: Dec 5, 2019
New Scoot drones now do 360 flips, light up with LEDs and come super-sized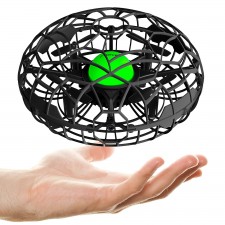 BELLEVUE, Wash., December 5, 2019 (Newswire.com) - Force1, a robust online store for drones and RC toys, announced that their Scoot drone fleet is growing. Customers have raved about the original Scoot hand-operated drone this past year, and now Force1 has unleashed 3 new additions in this drone family. All the Scoot drones use motion sensors to fly indoors and launch with a simple toss in the air.
Scoot 2 is the next phase of the ever-popular original Scoot hands-free drone. This indoor flying ball uses infrared sensors to navigate and perform 360° flips. A ring of red, blue and white LED lights shines as the drone flies across the room, office, classroom or dorm. These UFO drone toys are great beginner drones for kids ages 8 and up!
The exclusive Scoot 2 from Force1 comes in 2 cool colors and is available on Amazon for $34.99 with free, Prime shipping.
Going big really is a thing…and it hasn't been overlooked in the Scoot family. Meet Scoot XL, a bigger, hands-free drone with a bouncier protective shell. The new Scoot XL version designed for teens and adults measures 5.75" D and includes a convenient USB recharging cable. These tech toys are ready to fly right out of the box and can even be flown in dim light with the LED lights that shine as pilots navigate in any room.
Go big with the Scoot XL from Force1. It comes in blue and black and is available on Amazon for $29.99 with fast and free, Prime shipping.
This holiday season, the Scoot Duo two-pack of original Scoot Drones (blue and red) is living by the mantra – the more the merrier! Scoot Duo will bring party guests, office co-workers and friend tribes to their feet to keep this UFO drone flying. Adults and kids can fly these drones together to volley back and forth, race around the house or get creative by navigating both Scoots through an indoor obstacle course.
The Scoot Duo from Force1 is available on Amazon for $59.99 with free, Prime shipping.
The Scoot collection of motion sensor drones are easy to fly and a great way to get party guests up, moving and interacting. It's a perfect multiplayer game for all ages. Check out the Force1 collection and soar with Scoot!
########
About Force1
Force1 is a brand owned by Kaliber Global, a top-tier Amazon seller and the fastest-growing retailer in Washington State (Inc. 500, 2017). They are a locally owned family business based in Bellevue, Washington that specializes in launching fun, innovative products on the Amazon Marketplace since 2012.
Contact:
Amber Norell
Marketing Manager, Force1
407-432-0522
amber@kaliberglobal.com
Source: Force1