Food Industry: Intelligent Packaging Paves the Way for Better Business
Press Release
•
updated: Feb 16, 2018
Active Packaging, Smart Packaging or Intelligent Packaging refers to the Packaging of Food and Pharmaceuticals with programmable, smart packaging material. Intelligent Packaging can actively and intelligently alter the inner atmosphere of a package to maintain freshness, prevent corrosion, and at the same time provide information on the quality of the food and its freshness to the consumer.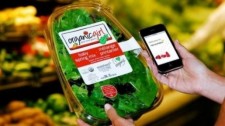 NORTHAMPTONSHIRE, England, February 16, 2018 (Newswire.com) - Intelligent Packaging and its impact on the food industry is in focus, and this article is what Leslie Carr of Printed Paper Cups manufacturer, Scyphus, UK has to say about it.
Intelligent packaging is revolutionizing the food and beverage industry. The global smart packaging market, expected to reach USD 46.74 billion by 2022 according to WiseGuyReports, is bringing forth an array of opportunities for business expansions. Considered as a key and decisive player for success, it is attracting massive investment and interest around the world.
Players in the industry may obtain extensive information about the trends at the forthcoming 11th World Congress on plant biotechnology and agriculture to be held on March 05-07 in Paris, France. Much focus will equally be laid on the emerging technologies in this field at the 21st Euro-Global Summit on Food and Beverages planned for March 8-10 in Berlin, Germany.
A glimpse into the smart packaging market
Smart packaging, also referred to as intelligent packaging, are those packaging systems that help monitor freshness of products, extend shelf life, improve safety, and display information on quality to consumers in a convenient manner. The two major industries where intelligent packaging is thriving are the pharmaceuticals and the food and beverage industry. The latter market is enjoying a rapid growth, principally driven by the soaring demand from the government, authorities, and consumers for transparency and food safety. Stringent government policies are also contributing to this boost.
All the factors driving this shift are expected to make the global smart packaging market grow at a steady and healthy Compound Annual Growth Rate (CAGR) of 5.16% to attain USD 46.74 Billion by 2022. The share for the food and beverage industry is, on its side, expected to grow faster with a CAGR of 6.23% during the forecast period. In terms of value, North America dominated the global smart packaging market with 42.8% of share in 2016. The European smart packaging market is predicted to develop at a 4.71% CAGR during the forecast period.
How does intelligent packaging work?
Throughout the years, packaging has become a significant component for manufacturers in the food and beverage industry. Having evolved in many ways over time, it has generally been influenced by the need to preserve the product while appealing to consumers at the same time. In recent years, smart food packaging is flourishing as an innovative food technology conferring many preservation benefits on a wide range of food products in an era where consumers are highly demanding especially when it comes to product quality, product information, traceability, and absolute transparency. A research conducted by Mintel revealed that "50% of US consumers are interested in scanning food packaging to learn more about the provenance of fresh produce". In a recent article, Charles D. Yuska, President and CEO of the Association for Packaging and Processing Technologies highlighted that "37% of U.S. consumers find it important to understand ingredients on food labels while 91% believe that products with recognizable ingredients are healthier".
The term "intelligent" is attributed to the type of packaging that has the ability to sense or measure the attributes of a product, the inner environment of the package, as well as shipping environment. Examples include temperature monitors, nanosensors, enzymes, and anti-bacterial agents. The active components are designed to help monitor and control food degradation, maintain nutritional quality, ensure microbial safety, and extend shelf life. In other cases, certain packaging such as films, are developed in such a way to become edible, allowing consumers to eat the packaging together with the product itself.
To respond to consumer demands and abide by government regulations, a number of brands are already using smart packaging by connecting it to their Cloud and providing ample details on the products being sold, such as allergens, portion sizing, and consumption recommendations. Certain manufacturers are equally hiring laboratories to conceive specific bacteria to maintain the freshness of their products and extend shelf life.
Creating emotions with smart packaging to enhance customer loyalty
Apart from demanding smart packaging with necessary information, consumers increasingly demand personalized products. The perfect strategy to increase customer loyalty and increase profitability would be to combine the maximum types of demands together.
"52% of US food shoppers report being drawn to packaging with unusual or eye-catching designs and 44% of Chinese consumers are interested in personalized packaging for carbonated soft drinks", unveils the Mintel research on the packaging. As clients are overwhelmed with arrays of products and packaging, brands are obligated to stand out by offering the additional plus. By offering tailored products, brands are also offering new experiences and emotions to clients who increasingly want to consume much more than the product itself.
On a parallel note, consumers are also calling for sustainably sourced products and clean processing. As consumers are eating and drinking more responsible food, they also want the same rule to be applied to the packaging of their products. Cone Communications revealed that globally, 91% consumers count on brands to operate responsibly; 71% are also ready to pay more for more sustainable products.
According to Cone Communications, 91% of global consumers expect companies to operate responsibly and 71% would pay for more sustainable products. Consumers are eating more and more responsible food and it has to be the same for packaging. The basis of sustainable packaging mainly lies on the material used, and whether it is recyclable or biodegradable. A scenario would be a coffee shop using sustainably sourced coffee beans and be selling the coffee in 100% biodegradable branded paper cups bearing QR codes that can unveil additional detailed information about the coffee beans themselves.
It is also expected that the use of e-labels in the food industry will soar by 50%, unlocking a number of opportunities for brands and creating more loyal customers. Currently, a customer buying a food item at the supermarket would generally not be able to understand the exact meaning of certain ingredients mentioned as codes such as E948 or E242. E-labelling thus represents a powerful solution and innovative sales channel too. The QR codes on the food products can take shoppers to a website or Cloud with all necessary detailed information. Combining various components for packaging would undeniably unleash fresh opportunities for brands.
Source: Scyphus Ltd