Fontana Forni Pizza Ovens Are Bringing the Homemade Pizza Experience to Dizzying New Heights
Finest in old-world craftsmanship meets modern ease-of-use in outdoor ovens built from formidably solid materials.
Press Release
-
updated: Oct 16, 2017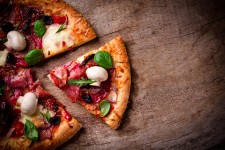 Atlanta, GA, October 16, 2017 (Newswire.com) - Offering pizza enthusiasts a way to indulge in Italian-flavored pizza direct from their own backyard, Fontana Forni is taking the homemade pizza experience to dizzying new heights by way of the most premium outdoor ovens on the market, boasting elements such as 12 centimeters of natural rock-spun wool insulation, cast iron and three-millimeter-thick stainless steel. Fontana Forni's ovens and pizza oven kits are 100-percent genuine Italian products, made by master craftsmen who fuse the finest in old-world craftsmanship with modern ease-of-use, ultimately resulting in ovens that take advantage of a traditional vault shape, double-forced ventilation system, three-surface refraction and innovative "total fire" structure for uniform heat distribution.
Responding to a hot current trend in outdoor wood-fired pizza ovens built directly into backyard patios, the Fontana Forni company offers a range of high-quality outdoor wood-burning ovens designed to distribute heat evenly, thus eliminating the need for continuous flipping or rotation of food to ensure proper cooking. In the counter-top and wood oven product categories, the company offers three lines – Margherita, Mangiafuoco and Marinara – with the portable Margherita models representing the smaller versions of Fontana's Forno Toscano ovens and boasting red, black or stainless steel finishes to complement existing outdoor decor.
Today's Fontana Forni employs 28 highly-skilled craftsmen, and we're proud that our name is synonymous with the only wood-fired oven on the market that combines the finest old-world Italian craftsmanship with the best that modern technology has to offer in areas of convenience and refinement," states Giovanni Fontana of Fontana Forni. "We understand that homemade pizza lovers want to have it all, and as such we've made sure our outdoor wood fired ovens and pizza oven kits are superior to that of any other product on the market; what's more, Fontana ovens are unique in their ability to achieve
The
Mangiafuoco countertop oven
was named after the fictional character
Mangiafuoco
, the larger-than-life director and puppet master in a classic Italian fairy tale, and like its smaller
Margherita
cousin it was designed from the ground up to cook perfect, Italian-style pizza – but its larger dimensions provide added capacity to prepare meals for extended families or larger events. Similarly, the
Marinara
counter-top oven was named after the classic sauce, alla marinara or "sailor style," because the sauce delivers big, bold flavor that's widely associated with Italian cuisine. The
Marinara
provides ample capacity to prepare multiple pizzas or dishes for larger gatherings, while still heating up in just 10 to 15 minutes.
Other premium products in Fontana Forni's family of pizza ovens include the Gusto Wood Oven, the original portable wood-burning oven introduced nearly 40 years ago; the Rosso Wood Oven, defined by its vivid red aesthetics; the Divino Wood Oven, which takes centuries of wood oven-making tradition and packages it in a contemporary design; the Inc Built-In Wood-Burning Oven, which takes the best features of the Gusto and favors performance over portability; the Inc Q Built-In Wood-Burning Oven; the Four Seasons Oven and the Pizza e Cucina Double.
"Because Fontana is still the only brand that knows there doesn't have to be a compromise between quality food and quality time, our products allow for the luxury of authentic tastes and textures and the greatest luxury of all – time spent with the ones we cherish," concludes Nicola Fontana of the Fontana family. "For those who truly want it all, the clear choice is Fontana Forni."
Fontana Forni is offering five-percent off accessories with any new oven purchase via coupon code PIZZAOVENS.
Source: Fontana Forni
Share:
---
Categories: Cooking and Entertaining, Lifestyles, Affluent Living
Tags: backyard ovens, counter-top pizza ovens, foodies, homemade pizza, pizza lovers, pizza oven kits, pizza ovens, wood-fired pizza oven
---