Florida E.N.T. & Allergy Helps Woman in Accident Speak Again
Recognizing May as Better Hearing and Speech Month
Press Release
-
updated: May 19, 2017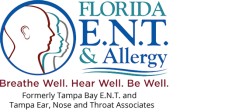 Tampa, Florida, May 19, 2017 (Newswire.com) - Hannah Finn, 18, was first diagnosed with dysphagia, a swallowing disorder, and aphonia, the loss of a person's voice, in December of 2016. Finn is among an estimated 17.9 million U.S. adults 18 or older who have reported having had a problem with their voice in the past year. However, speech and voice disorders don't discriminate based on age, as one in 12 U.S. children have had a disorder related to voice, speech, language or swallowing in the past year as well, according to the National Institute of Deafness and Other Communication Disorders.
May is Better Hearing and Speech Month and Florida E.N.T. & Allergy, along with Finn and many others across the world, are using this time to raise awareness of voice and speech problems.
Most people experience some form of voice problem in their lifetime, including hoarseness, change in pitch, or even short-term loss of voice. These problems may be caused by excessively loud talking or shouting, exposure to smoke and other irritants, stress, anxiety, and upper respiratory infections. However, when a person's voice doesn't return to its normal characteristics and capabilities within a few weeks, it could be a sign of a more serious condition.   
Finn, who once described her ability to speak and swallow as "normal," quickly realized what it was like to have those everyday functions taken away. She was involved in an ATV accident in which the trauma impacted her vocal structure. Finn sought the help of Daniel Vincent, M.D., board certified ear, nose and throat physician with Florida E.N.T. & Allergy to perform her reconstructive surgery in hopes of normalizing her voice again.
"Dr. Vincent saved my life. He has been the most important person in my life to date. I was sent from another hospital just to be in his hands.  I would not have chosen anyone else to perform such a difficult surgery," expressed Finn.
Post-surgery, Finn met with Darla Freeman-Levay, M.A., CCC/SLP, a Speech-Language Pathologist with Florida E.N.T. & Allergy to undergo voice and swallowing rehabilitation therapy. Throughout her treatments, Finn explained how her voice became stronger and she regained her ability to eat again.
"Darla's voice and swallowing rehabilitation therapy has helped me eat and talk normally. It was super easy and Darla made it enjoyable. She has been so sweet and has helped me understand my diagnosis," said Finn.
In December, when Finn's accident occurred, she lost her ability to communicate to friends and family. In many cases, the loss to express oneself can comprise physical and emotional health, leading to stress, withdrawal, and ultimately impacting a person's overall quality of life. However, Finn didn't allow her situation to take control of her life, and in fact, she advises others to follow in her footsteps.
"Do not look down on yourself. Have confidence and the treatments will reward you in return," advises Finn.
At first, Finn was uncertain what the future held for her and questioned whether she would be able to speak or swallow again. Now, following her surgery and therapy, Finn has a new outlook on life with a clearer idea of what the future will hold.
"I would love to help others the way Darla and Dr. Vincent do by going into the medical field. I want to continue to spread awareness of my diagnosis to help educate others of their options," explained Finn.
For more information about voice and swallowing disorders and their treatment options, visit www.FloridaENTandAllergy.com or call (813) 879-8045.     
About Florida E.N.T. & Allergy:
The physicians of Florida E.N.T. & Allergy have served the Tampa Bay community for over 40 years. From pediatric allergies to fitting hearing aids, our caring and experienced physicians specialize in ear, nose and throat care for the entire family using comprehensive, cutting-edge technologies.

###
Source: Florida E.N.T and Allergy
Share:
---
Categories: Healthcare, Healthcare and Medical Informatics, Healthcare Technology, Chronic Diseases, Medicine and Healthcare
Tags: ear nose and throat physicians, ear nose and throat specialists, ear specialist, florida ent, florida ent and allergy, hearing aids, nose specialist, throat specialist, voice specialist
---