Florida E.N.T. & Allergy Discusses How Woman's Parkinson's Diagnosis Inspires Her to Give Back to a Disease That Has Taken So Much From Her
Press Release
•
updated: Apr 27, 2017
Recognizing April as National Parkinson's Awareness Month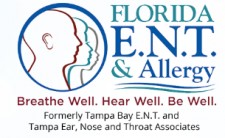 TAMPA, FL, April 27, 2017 (Newswire.com) - Laura Crawford, 54, was first diagnosed with Parkinson's disease in February 2014, a diagnosis she shares with one million people across the U.S. While this may literally make Crawford one in a million, she has proven to be just that through her continuous efforts to raise awareness and bring together a community defined by Parkinson's patients, caregivers, physicians and advocates alike.
April is National Parkinson's Awareness month and many others are using this month to share in Crawford's efforts.
"It's important for those with Parkinson's to exercise their voice to help keep their speech loud and clear."

Darla Freeman-Levay, M.A., CCC/SLP, Speech-Language Pathologist, Florida E.N.T. & Allergy
Parkinson's disease is a chronic and progressive movement disorder that involves the malfunction and eventual death of nerve cells in the brain that produce dopamine, a chemical that sends messages to the part of the brain that controls movement and coordination.
"Parkinson's disease is a dopamine eating monster in our heads, but hey, it is what it is. We got it, it diminishes us, it is nasty; it is progressive and, today, still incurable. But moaning only makes it worse. In fact, the only real weapon I have against it is humor, which I learned from my father," explains Crawford.
For many, Parkinson's can be difficult to understand and cope with, however Crawford credits being busy and engaged with the community as helping her through hard times following her diagnosis. In March 2016, Crawford helped start the New Port Richey Parkinson's support group, as well as a digital support group comparable to a social network for those with Parkinson's.
"Staying involved in Parkinson's disease organizations puts you close to information that can be trusted. When dealing with a disease as complicated as Parkinson's, that is priceless, because you learn about new treatments. Organizations allow you to stay engaged, and that is a powerful medicine. You can participate in trials, you can help other people and you get to go to events where you can find kindred souls," explains Crawford.
Crawford is not only involved in support groups, but is also an active member of the Tremble Clefs of Tampa Bay, a Parkinson's chorus founded by Darla Freeman-Levay, M.A., CCC/SLP, a Speech-Language Pathologist with Florida E.N.T. & Allergy.
Difficulty speaking and swallowing are among the limiting symptoms of Parkinson's disease and may be characterized by a hoarse or strained voice, a muffled voice, or unclear, slurred speech. Speech-Language Pathologists play a vital role in helping people with Parkinson's combat these symptoms and maintain their communication skills. They provide vocal exercises that help strengthen weakening muscles, some of which include breath support and posture.
"It's important for those with Parkinson's to exercise their voice to help keep their speech loud and clear," explains Freeman-Levay. "Much like other parts of the body are affected, Parkinson's impacts the muscles in the face and throat involved in speech."
Freeman-Levay founded the Tremble Clefs of Tampa Bay as means to provide a fun, interactive environment for people with Parkinson's disease, while improving their speech through the vocal exercises practiced in singing.
"I went to Parkinson's exercise class a couple of months ago right after chorus. When my turn came to say a number as loud as I could, my voice boomed. To this day, they still talk about it," explains Crawford of her progress made through her participation in the Tremble Clefs of Tampa Bay.
Crawford currently resides in New Port Richey with her husband and two cats. She continues to motivate, educate and advocate for those with Parkinson's, all while maintaining her humor and positive attitude.
"There is a silver lining: my fellow 'Parkies,' as I call them. I found my tribe, my team, those that I try to help when they are having trouble and whom I will cry for when they leave, knowing that they will do the same for me. And that is something that few people have."
For more information about how Speech-Language Pathologists at Florida E.N.T. & Allergy can help improve your speech, visit www.FloridaENTandAllergy.com or call (813) 879-8045.
About Florida E.N.T. & Allergy:
The physicians of Florida E.N.T. & Allergy have served the Tampa Bay community for over 40 years. From pediatric allergies to fitting hearing aids, our caring and experienced physicians specialize in ear, nose and throat care for the entire family using comprehensive, cutting-edge technologies.
###
Source: Florida E.N.T. & Allergy