Florida-Based CF Creative Receives National Award as 2017 Minority Marketing and Communications Firm of the Year From the U.S. Department of Commerce
Press Release
•
updated: Oct 10, 2017
The digital marketing and strategic communications agency will receive the award during National Minority Enterprise Development (MED) Week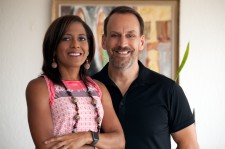 FORT LAUDERDALE, Fla., October 10, 2017 (Newswire.com) - ​The Minority Business Development Agency (MBDA) of the U.S. Department of Commerce has named CF Creative, a Florida-based company, as the 2017 Minority Marketing and Communications Firm of the year. The award pays tribute to a minority-owned firm who has achieved notable success in the marketing and communications industry by demonstrating creativity and impact.
CF Creative, based in Fort Lauderdale Florida, launched in 2014 as a strategic business writing, consulting and digital media provider whose solutions aim to bridge clients' communication, advertising and business development gaps. Since inception, CF Creative has served clients as diverse as CBRE, SDI International Corp, the University of Miami International Medicine Institute, Microsoft, Stiles and UHealth International, providing strategic communications, social and web content, commercials for the furniture industry, corporate videos, and consulting services focused on business development to position client brands, products and solutions with ideal markets and customers. Earlier in 2017, CF Creative partnered with global Microsoft Partner and service provider LLB Solutions to expand their portfolio by integrating IT project management, software and app development, headcount optimization, and telesales solutions to their offering. The joint venture gives CF Creative a more comprehensive range of services for local and international markets.
This award is an inspiration for us to continue to offer our clients, and the market, our white-glove service in every single interaction.

Conchie Fernàndez-Craig, Managing Partner, CF Creative
"We are truly honored and humbled by this incredible recognition," stated Conchie Fernández-Craig, owner and Managing Partner at CF Creative. "Our dream was to build services that empowered companies and entrepreneurs with strategic branding, communication, and sales strategies to enable them to grow their revenue streams, and we're fortunate to do work that we love. Moreover, we value the work that the MBDA and the U.S. Department of Commerce do to support minority-owned companies like CF Creative. This award is an inspiration for us to continue to offer our clients, and the market, our white-glove service in every single interaction."
Co-owner and Managing Partner Dave Craig said of the award, "We started CF Creative to bring the experience we gathered in our jobs in Corporate America to every client, at every level, leveraging Fortune 100 skills and strategies to make an impact in businesses of all sizes and complexities. Receiving this award from the MBDA further cements our commitment to excellence. On behalf of Conchie and I, and our entire team, we're very grateful for this honor."
CF Creative also works with trade associations and nonprofit organizations to offer them a branded concierge desk that allows the organizations' members to purchase CF Creative's solutions at discounted rates, and also gives a percentage to the organizations as a gain-share donation. The group has worked with the Greater Austin Hispanic Chamber of Commerce and the International Women's Entrepreneurial Challenge (IWEC), and they plan to expand the concierge service to minority-owned business organizations in Florida and throughout the nation.
"The MBDA award has contributed to making this a banner year for CF Creative. Later this year we're also addressing the audience of the 10th annual IWEC Conference at Microsoft global headquarters in Redmond, Washington, to discuss how to scale women-owned companies to do business with the Fortune 500s, and the tools and resources available to them. Supporting minority-owned companies is part of our wheelhouse, right down to the design and focus of our services," said Ms. Fernández-Craig.
The MBDA Awards are given during National Minority Enterprise Development (MED) Week, Oct. 22-28, which President Trump declared as a time for the Nation to recognize the contributions of the minority business community to the U.S. economy. The National MED Week Awards is a longstanding tradition that celebrates the achievements of minority entrepreneurs and individuals and organization that demonstrate their commitment to advancing minority business enterprises. MBDA will kick off MED Week during the National Minority Supplier Development Council (NMSDC) Annual Convention in Detroit, Michigan on Oct. 22-25, 2017.
Learn more about CF Creative: www.cf-creative.com
Contact:
Andie Farris
Marketing Lead, CF Creative
(954) 225-9342
Source: CF Creative
Related Media
Tags
Additional Links