FlippingBook Online Update: Advanced Document Analytics
Press Release
•
updated: Feb 6, 2018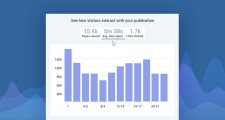 NEW YORK, February 6, 2018 (Newswire.com) - FlippingBook, a software and cloud service for converting PDFs into online publications with page flip effect, has just announced an update to FlippingBook Online. The company, which aspires to make working with documents easier and more efficient, has introduced advanced document analytics to FlippingBook Online.
Why analyze documents? It helps gain insights into content usage to make documents more engaging, improve their impact and effectiveness, understand the audience, and connect with clients on a meaningful level.
With this in mind, FlippingBook launched advanced document analytics in FlippingBook Online. These analytics allow marketers to receive deeper insights and essential information about their document performance and their readers. These data can help them make well-thought-out decisions on marketing, sales, and training documents.
Marketers can now track views by page to see how readers engage with documents. Knowing which pages people read and come back allows them to see what works and what doesn't and create more powerful content. Furthermore, knowing the average length of time each page was viewed also helps marketers understand how readers interact with documents and what type of content is most popular.
If a document has a lead capture form enabled, marketers can track each visitor's interaction with that document. Using emails, marketers can track when and how many times a document was viewed by a certain client. This information can help marketers gather more valuable data about collected leads and contact clients in best, most timely way.
About FlippingBook
FlippingBook started out in 2004. Since then, it has developed FlippingBook Publisher and FlippingBook Online: a professional software and web-service for turning PDFs into interactive HTML5 documents. Its clients are a vast range of companies from many different industries, including manufacturing, real estate, healthcare, education, and retail. For more information visit https://flippingbook.com.
Media Contact:
Anna Konovalova - Content marketer
Email: akonovalova@flippingbook.com
Resources
Source: FlippingBook