Five Terrific Trees to Plant This Fall
Press Release
•
updated: Oct 26, 2017
NatureHills.com reveals the landscape stars that add beauty to any yard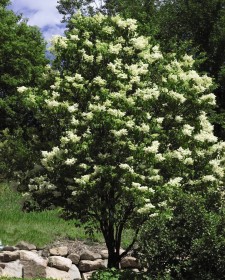 Omaha, NE, October 26, 2017 (Newswire.com) - ​Trees are the anchors in a well-designed landscape. As the largest plants, trees naturally become focal points that draw the eye into a garden. Choosing the right trees can make the difference between an interesting, inviting yard and a boring yard that no one notices.
Different types of trees have varying personalities in the landscape. A flowering tree offers a dramatic show of spring or summer blooms. A stately evergreen is a steady presence that remains constant throughout the year. Fruit trees offer a variety of pleasures during the growing season, beginning with a spring show of blossoms followed by an early-summer fruiting season and a tasty harvest in late summer or fall.
According to Jeff Dinslage, president of Nature Hills Nursery, these are five terrific trees that deserve a spot in any landscape.
IVORY SILK LILAC TREE
Looking for something distinctive enough to make the neighbors stop in their tracks? The Ivory Silk Lilac Tree (Syringa reticulata 'Ivory Silk') is a small tree that bears huge, one-foot-long flower panicles in late June, well after traditional lilac bushes have given up for the season. The monster flower bunches are creamy white and give off a heady, musky scent that will perfume an entire yard. These trees make a great focal point in small yards, and in large yards they can be planted in a row along a fence line to create a show-stopping tall hedgerow.
The Ivory Silk Lilac Tree blooms more heavily and longer than bush lilac varieties. In the summer, a Tree Lilac is densely covered in beautiful, deep green leaves, which is a refreshing sight in the height of summer heat. In the fall and winter, the attractive dark-red bark adds an interesting color to the landscape. As if that wasn't enough, a Tree Lilac can withstand temperatures as low as 30 degrees below zero, and it isn't affected by soil pH like other lilacs.
An Ivory Silk Lilac Tree grows to a manageable 15-25 feet tall and 10-15 feet wide and makes an impact throughout USDA Zones 3-7. A 5-6' tall bareroot tree sells for $99.95 from www.naturehills.com.
AUTUMN BLAZE RED MAPLE
Autumn Blaze Red Maple (Acer x freemanii 'Jeffersred') is the fastest-growing cold-hardy maple tree that boasts brilliant fall color. This variety was first introduced in 1982 as a cross between a red maple and a silver maple to provide a stronger, more colorful landscape tree. Autumn Blaze Red Maple has become one of the most sought-after maple varieties in the USA.
Due to its upward growth habit, Autumn Blaze Red Maple works well in clusters or as a stand-alone focal point in the yard. The leaves emerge with a slight reddish tint. Then, in autumn the leaves turn a bright orange-red that will still be dazzling your neighbors when other trees have faded. Autumn Blaze Red Maple tree is also disease and pest resistant. This tree is tough enough to persevere during drought conditions and strong enough to withstand heavy snows.
At maturity, an Autumn Blaze Red Maple reaches 40-60 feet tall and 40-60 feet wide. It thrives throughout USDA Zones 4-8. A 5-6' tall tree in a 3-gallon container sells for $84.95 from www.naturehills.com.
HONEYCRISP APPLE TREE
What's better than biting into a Honeycrisp apple from a local market? Biting into a fresh Honeycrisp apple picked from your own Honeycrisp Apple Tree. The thought of that sweet tang and solid crunch is enough to make your mouth water right now.
A Honeycrisp apple is one of the best-selling fruits in food stores, and a Honeycrisp Apple Tree is a wise investment in your family's health—and a great addition to any property. A flurry of pink blossoms covers the tree in early spring. Then yellowish green apples cover the tree in late summer and ripen with a red blush in September. But the fruits don't immediately drop when ripe, so you can take your time in picking them.
This variety needs full sun and well-drained soil for optimal growth. To maximize fruit production, plant another apple tree close by to aid in pollination (such as Gala, Granny Smith, Empire, McIntosh or Red Delicious). This semi-dwarf tree reaches 15-20 feet tall, so it fits comfortably in most yards. Its low canopy makes it ideal for planting under power lines or in other confined locations. A Honeycrisp Apple Tree grows well in USDA Zones 3-8. A 4-5' tall tree in a 3-gallon container sells for $79.95 from www.naturehills.com.
AUSTRIAN PINE
An Austrian Pine (Pinus nigra) is a classic landscape evergreen that looks great every month of the year. When deciduous trees have dropped their leaves and are dormant in freezing weather, an Austrian Pine is a pleasant splash of green in a barren landscape.
This is a densely branched tree that produces long (4-6 inches), dark needles. Austrian Pines are great trees for screening because they are very dense. This evergreen conifer tree thrives in urban locations as well as in windbreaks in more rural settings. It grows well in a variety of soils including limestone and acid soil, and it is very hardy. The spreading branches of a young tree form a pyramidal outline, but at maturity, the tree sometimes achieves a picturesque flat topped head. A fast-growing Austrian Pine makes an attractive Christmas tree when sheared.
For use as a windbreak or a dense screen, space the trees 6 feet apart. When placed in a good site, each tree should reach 5 ft. in height in 6-7 years when starting with a 2-year-old seedling. Austrian Pine trees are cold hardy in USDA Zones 3-8. A 1-gallon tree sells for $34.95 from www.naturehills.com.
MARLEY'S PINK PARASOL JAPANESE SNOWBELL
Here's an interesting and rare weeping form of a small ornamental tree for virtually any landscape. The obvious attraction of Marley's Pink Parasol® Japanese Snowbell tree is the flower display. Clean, crisp and waxy looking flowers hang like bells in profusion from the stems. The display is amazing, and even the emerging flower buds are attractive. The incredible flowers are blushed with pink, and the fragrance is reminiscent of cotton candy.
The flowers on a Marley's Pink Parasol tree open in late May to mid-June, and few flowering trees can match the show. Marley's Pink Parasol Japanese Snowbell's beautiful weeping form ends up becoming a piece of sculpture in the yard or garden. This is the perfect plant to be used as a specimen in a place of distinction in your yard. It's a great small tree to highlight a berm and an excellent plant to site near a patio, where you can enjoy its great form and amazing flower display. Because of its compact size, a Marley's Pink Parasol can also be planted in patio pots where you can watch its show of blossoms up close. The shiny, dark-green leaves are more elongated and wider than other Japanese Snowbells, and they contrast nicely with the flowers.
Marley's Pink Parasol is a long-lived, relatively pest-free tree that likes a somewhat protected site in full sun or partial shade, with nice moist soil that has plenty of organic matter. Even at maturity, it will only grow 8-10 feet tall and a slender 4-5 feet wide. It grows best in USDA Zones 5-8. A tree in a 2-gallon container sells for $79.45 from www.naturehills.com.
For more information the wide variety of trees and shrubs trees available for growing in the US, visit www.NatureHills.com.
Source: NatureHills.com
Related Media