Fitness Together Has New Meaning for This Cancer Survivor
Diagnosed three years ago with an aggressive form of breast cancer, Lindsey Anderson, of Charlotte, tells the story of how she fought back with exercise and a healthy diet.
Press Release
-
updated: Oct 11, 2016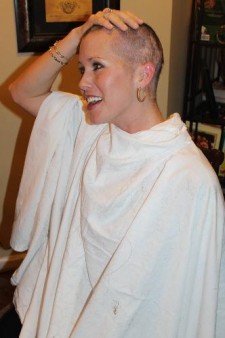 Highlands Ranch, CO, October 11, 2016 (Newswire.com) - Fitness has always been an important part of Lindsey Anderson's life. Her husband, Rick, owns several personal training studios in Charlotte, called Fitness Together, and that's what her family likes to do. Live active, healthy lives together.
Such was the case when she and Rick took their kids sledding in the mountains over Martin Luther King weekend back in 2013. In church that Sunday, Anderson was listening to her preacher tell the story of parishioner who had died from brain cancer and she remembered thinking how short life can be. As Anderson listened, it occurred to her that she never did self-checks. She was after all, young, only 34, a mother of three, and healthy. She'd recently completed a marathon.
Still, Anderson left church that day with an uncomfortable gut feeling, and when she did her own self check, there it was. A lump. She wanted to deny it, but a week or so later, Anderson went in for a mammogram. The radiologist's first words said all she needed to know, "Lindsey, I'm a mom, too, and we are going to have a plan for you."
Anderson had been diagnosed with a very aggressive form of breast cancer. Its destruction would require four to five months of chemotherapy, 33 radiation treatments and seven surgeries that included a double mastectomy, five reconstruction surgeries, and a partial hysterectomy.
Over the next few months, Anderson's taste buds would disappear, replaced by mouth sores that made eating a matter of trying anything that would stay down. When treatment was over, however, Anderson needed a new plan going forward. It would start with a commitment to a healthy diet and regular exercise.
"I was kind of in a panic mode," Anderson remembers. "I needed to find something to keep the cancer from coming back, and I knew that eating healthy and exercise would be big factors."
Anderson did tons of research and for the first few weeks of her recovery, she decided to put herself on a ketogenic diet, a high-fat, adequate-protein, low-carbohydrate diet that in medicine is used primarily to treat difficult-to-control epilepsy in children. Anderson had come across mounting research that suggested nutritional ketosis was the answer to a long list of health problems, but chief among them was stopping cancer cell growth.
The ketogenic diet made Anderson feel amazing, but it was also very strict and she could only maintain it for a few weeks. She chose to go on a Paleo Diet, which is also sometimes called the caveman's diet because we eat like our prehistoric ancestors – foods that are high in protein and fiber, like fresh lean meats and fish, fruits, and vegetables, and healthier fats. Processed foods are completely out, along with wheat, dairy, grains and beans.
Exercising also became a big part of her recovery plan, since it was so much a part of her family's livelihood. Her husband's studios specialize in providing private, one-on-one personal training programs, so when her chemo treatments ended, Anderson took that same program to heart. Fitness got personal. Anderson got into weight lifting four to five days a week and integrating her workouts with high intensity interval training. Her workouts became so important, she started scheduling them regularly in her appointment calendar.
"You have to push yourself, and it's in that pushing, where you grow," says her husband, Rick. He's someone who would know, as a personal trainer himself, and as someone who has followed his wife's progress with enormous pride and admiration. "Her pain threshold is 10 times mine. She's an inspiration to me."
Exercise and healthy eating was having an impact.  Anderson could feel her energy increasing, her faith strengthening and her appreciation for life growing.
"When you have a life-changing experience like cancer, you become very reflective about your life," says Anderson. "My relationships are stronger having gone through this. It's brought my husband and I closer. That happens when you start talking about what ifs, if you die. The whole experience has brought positive change to our family. When you eat and live healthy, you crave healthy."
Perhaps the best thing to happen has been receiving a clean bill of health after three and a half years. Anderson has been given a really good prognosis by her doctors and is making plans for the future. "I want to get even stronger, travel a bit and build a dream home for my family."
Source: Fitness Together
Share:
---
Categories: Healthcare, Active and Healthy Living, Exercise and Physical Fitness, General Interest, Women's Issues, Nutrition
Tags: Breast Cancer, Breast Cancer Awareness, Breast Cancer Awareness Month, Ketogenic Diet, Paleo Diet
---