First USA Futsal Academy in Georgia to Open in January 2018
"Cristiano Ronaldo and Ronaldinho both credit [futsal] with making them the players they are today." - BBC News
Press Release
-
updated: Nov 28, 2017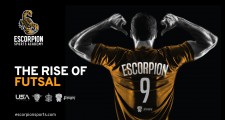 GAINESVILLE, Ga., November 28, 2017 (Newswire.com) - In January 2018, Georgia will be home to ESCORPION Sports Academy, the state's first Futsal Club, thanks to a partnership with USA Futsal and two Georgia-based businesses Scrappy Apparel Company and Rockport Indoor Soccer.
​The fast-paced, high- intensity sport of futsal is credited with improving soccer performance for many of the world's top players including Cristiano Ronaldo, Lionel Messi and Alexis Sanchez. Pele has also acknowledged the benefits it has on performance, "Futsal requires you to think and play fast. It makes everything easier when you later switch to football," he told Fifa.com in an interview about the game.
"This is an opportunity for us to introduce futsal to the southern U.S. and provide more of a hands-on collaboration," says Rob Andrews, President of USA Futsal. "We are very excited about this partnership with Scrappy Apparel Company and Rockport Indoor Soccer. We expect it to serve as a model as we open other academies across the U.S."
Scrappy Apparel Company will provide the uniforms. The company's branding staff is behind the powerful graphic imagery and design.
"We are committed to empowering the underserved in communities across the country. Futsal embodies all the assets we want to bring to youth sports," says Scrappy Apparel Company CEO Grant Kevins. "It is a high energy sport that builds confidence, is inexpensive to play, and requires mental and physical ingenuity and quick decision-making skills."
ESCORPION Sports Academy will be headquartered in the Rockport Indoor Soccer facility in Gainesville, Georgia with plans to offer U6, U8, U10 and U12 after-school training. Rockport Indoor Soccer owner, Jonathan Cueva, grew up playing futsal in his native Ecuador, then went on to play soccer professionally. In 2001, he moved to the U.S. with hopes of building a soccer program that incorporated a strong futsal program.
"I always wanted to introduce futsal to boys and girls playing in my programs, but it was important for me to do it the right way," says Cueva. "To produce the kind of program that intensifies skill instruction and experience, USA Futsal is providing a professional futsal coach from Barcelona. The program is what I had been dreaming of for years."
Academy participants will practice twice a week with games on the weekend. A futsal team is comprised of five players including a goalie. The game is played on a hard court with a smaller, heavier ball. Players learn to handle the ball with more control and are required to be more focused on passes given the smaller court. Futsal originated in Uruguay and Brazil in the 1930s. Goals are smaller and the court is 40x20m.
"The small playing area helped me improve my close control, and whenever I played futsal, I felt free. If it wasn't for futsal, I wouldn't be the player I am today," said Cristiano Ronaldo in a 2012 FIFA.com interview profiling "The football greats forged by futsal." Lionel Messi and Xavi were also profiled.
"As a little boy in Argentina, I played futsal on the streets and for my club. It was tremendous fun, and it really helped me become who I am today," said Messi.
Xavi played as a boy in Spain where futsal players are paid as much as their soccer counterparts. "In futsal, you see whether a player is really talented. In normal football, you don't necessarily identify talent as easily because it's so much more physical. But with futsal, you notice the small details in quality, class and tactical understanding."
ESCORPION Sports Academy is currently accepting player applications for 2018. A dedicated link has been set up at EscorpionSports.com.
Sign up for the ESCORPION Futsal Academy Newsletter to follow the organization's progress.
About Scrappy Apparel Company
Scrappy Apparel Company is a full-service custom apparel marketing agency with clients across the U.S. In 2016, founders Grant Kevins and Chris Berena created a separate initiative within the company that focuses on community development and affecting change. Escorpion Academy will be part of that initiative. Scrappy Apparel has been serving small, mid-level and large companies for more than a decade. Central to the company are five core business values, focused on the customer experience, including exceptional service, fair price, unparalleled expertise, source quality, be present. More than 80 percent of Scrappy Apparel's business is repeat or referred. To learn more, visit ScappyApparel.com.
About Rockport Indoor Soccer
Rockport Indoor Soccer operates one of the few indoor soccer programs in Georgia. Let by former professional soccer play Jonathan Cuera, the club has welcomed hundreds of children since it opened in 2015. Rockport Indoor Soccer will open the first-ever Futsal Academy in 2018. To learn more visit: Rockportsoccer.com.
About USA Futsal
Formed in 2010, the USA Futsal Association is a 501 (c)(3) non-profit whose mission is to support the growth of futsal in the United States and beyond through the organization of events and competitions as well as by promoting opportunities for players, coaches, referees and fans.
Contact
Kathy Scott
Scrappy Apparel Company
(678) 615-0857
PR@scrappyapparel.com
Source: ESCORPION Sports Academy
Share:
---
Categories: Sports, Fitness, and Recreation, Soccer, Sports-related Business
Tags: cutom apparel, escorpion sports academy, futsal, soccer, sports, t-shirt, uniforms, youth sports
---