First Time Home Buyers in Utah Can Count on Hammer Team Realty
Press Release
-
updated: Apr 9, 2019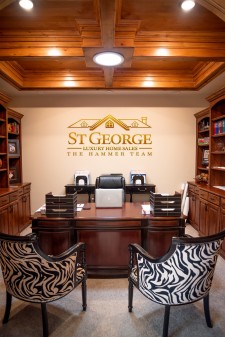 ST. GEORGE, Utah, April 9, 2019 (Newswire.com) - Hammer Team Realty, a known Saint George area realtor, is providing peace of mind to first time home buyers in Utah.
According to them, buying a luxury home for the first time is daunting - it's a huge investment and arduous process. A good real estate team should help first time home buyers navigate the process and feel confident in their investment.
Hammer Team Realty does just that. Their agents make the home buying process easier because a) they know the ins and outs of luxury home buying and b) they are experts in the Utah luxury housing market. They use their expertise to ease the stress of buying a house for the first time.
First Time Buyer Guidance
Hammer Team has the experience to help guide any first time home buyer in Utah to find the right home for them. Hammer believes it's all about encouraging new buyers to look beyond their immediate needs. Maybe the buyer is looking to resell in a few years, or the buyer is a couple looking to start a family.
Hammer Team goes beyond checking the buyers' boxes on location and amenities. These agents consider all the details to ensure buyers find the home that suits their needs now, and into the future.
Their agents guide new home buyers throughout the all home acquisition phases, including the mortgage process. They understand mortgage financing can be intimidating, and provide tools to make the mortgage process more manageable. Agents help buyers with a mortgage loan calculator to estimate monthly payments and work with loan officers to help buyers complete loan pre-qualification.
Hammer Team agents want their first-time buyers to feel ready to enter negotiations when they find the right home.
Understanding the Utah Real Estate Market
The housing market is constantly in flux, so home buyers rely on realtors to be up to date on trends. Hammer team agents understand the changing luxury home values in Utah and will make sure their buyers are getting the best deal on purchasing their luxury home in Utah.
Whether a buyer is looking for new homes in Utah or established luxury homes, Hammer Team agents will help a first time buyers understand when is the best time to buy and where are the best locations to buy.
Hammer Team thinks buying a home for the first time should be more exciting than stressful. For advice on buying a home in Utah, Hammer Team Realty are the agents first time buyers can trust.
Source: Hammer Team Realty
Share:
---
Categories: Real Estate
Tags: Buying A Home In Utah, First Time Home Buyer Utah, First Time Home Buyers Utah, Home Values Utah, New Homes In Utah, Utah Real Estate Market
---