Financial Empire Firm ZT Wealth Announces Rebrand to ZT Corporate
Press Release
•
updated: Jan 5, 2018
ZT takes on a new name among other changes as the financial firm faces enormous growth and expansion.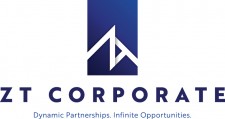 HOUSTON, January 5, 2018 (Newswire.com) - ZT Wealth has announced a corporate rebrand, updating their name to ZT Corporate and presenting a bold new logo and website to accompany the dynamic transformation.
With an eye toward opportunities for the future, the rebrand reflects ZT Wealth's substantial expansion, as the company has outgrown its specialization of wealth management and diversified into several industries, including healthcare (Altus Health), automobile dealerships (ZT Motors), sport agency (ZT Sports), multi-family real estate (ZT Real Estate Fund, L.P.), and fast food restaurants (ZT Quick Service Restaurants Fund). The ZT Corporate name embraces this varied new identity and serves as a testament to the dedication the brand has been building for the past 20 years and a promise for success on the horizon. The broad applications of the name pave the way for many more exciting undertakings in the future.
To commemorate this high point in the company's history, ZT Wealth refreshed their visual identity, as well as designing a new logo and changing their name. The announcement was made last December at the Toast To Living Well Gala in downtown Houston, which raises funds for the Altus Foundation to help provide crucial medical services to those in need. The updated logo illustrates both the vision the company holds for the future as well as the commitment to strengthening relationships they have long cultivated. Overall, the logo presents the company as powerful, striking, and state-of-the-art in specialized financial solutions, which accurately reflects the heart of ZT Corporate and the stellar outlook for the company's future.
For the past 20 years, ZT Wealth has been an important landmark in the financial industry and is the embodiment of a team built on extensive knowledge and trust between partners. This new corporate change made at the kickoff of the new year marks a significant turning point as ZT Corporate continues to fan out and make roots in a number of influential entities. As they move into the future, they look forward to continuing to make an impact in the financial world with dynamic partnerships that offer infinite opportunities to investors.​
About ZT Corporate
ZT Corporate is an innovative full-service wealth management firm which offers opportunities for private equity investments. Their entities operate under skilled management teams, with ZT having oversight as a mandate of their funding vehicles. With offices based in Houston, Texas and New York City, they provide specialized financial solutions and creates value for client-partners through a broad range of financial channels, including unique traditional and alternative private equity investments across healthcare, automobile dealerships, quick-service restaurants (QSR), and real estate. The source of their success stems from building close and trusting relationships with its employees, partners, and community at large.
Media Assets
ZTCoporate.com
​altusfoundation.com
​altushealthsystems.com
Source: ZT Corporate
Related Media
Tags
Additional Links