Financial Education Benefits Center Reports Remarkable Link Between Being Single and the Hero's Journey
Press Release
-
updated: Oct 30, 2018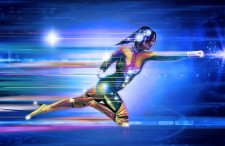 SAN RAMON, Calif., October 30, 2018 (Newswire.com) - "Love is a friendship set to music," wrote Joseph Campbell, famous mythologist and famed expert on the Hero's Journey. Perhaps his wisdom can be applied to love and romance, especially for those who recently embarked on an epic journey of self-discovery as a newly single person. Financial Education Benefits Center (FEBC), a company that provides member benefits including financial and health wellness, believes that deep happiness is within reach for anyone looking for it, regardless of relationship status. FEBC provides benefits to help with that journey, including tools ranging from discounts on fitness and groceries.
"How do benefits for groceries help you with your happiness?" asked Jennifer Martinez, manager at FEBC. "I can tell you this: If you save money on things in life that add up, like groceries for your entire family, then you will be less stressed out and can spend money on the things that support your journey, like time with your loved ones."
Many people believe a perpetual state of happiness is the meaning of life, but life doesn't always go according to plan. Unexpected losses, whether financial, death or divorce, can make a person question everything. In many ways, these life events set people on a journey, maybe even The Hero's Journey. Campbell defined this journey by establishing many steps that a hero experiences before he or she finds ultimate victory. Oftentimes movies, novels and TV shows use this storytelling vehicle for their plots. Take a recent breakup: the hero's journey could parallel the journey that a newly single person embarks on, especially the final part, which is called the "return home." In Campbell's view, this is the point in which they discover they can live their best life on their terms, without regret or shame. They have become fearless, hopeful and confident. While the initial sting of a breakup may not feel heroic, after a period of grieving and healing, a person can learn to take care of themselves in a healthy and happy way.
However, a person doesn't have to go on an epic journey to reap these types of rewards. FEBC, for example, offers its members deals on many types of expenses, including gyms. A newly single person might discover that fitness will help them get through their emotional pain. As ultramarathoner Robin Arzon puts it, movement is magic and "you will somehow find physical power that translates into emotional fortitude." Working out has so many mental health benefits, including reducing stress, releasing endorphins (which create feelings of happiness) and improving self-confidence. FEBC's fitness benefits can help someone going through a breakup reclaim their body and hopefully, help them find their happy place again.
"Everyone's journey is going to be different," added Martinez. "Whether our benefits for fitness help a person sweat out their pain or our grocery discounts help them find a healthier diet — we strive to support your goals, values and evolution as a person, wherever you are on your Hero's Journey."
About Financial Education Benefits Center
Financial Education Benefits Center is located in San Ramon, California. The membership company has already helped thousands save money and obtain the necessary education required to live a financially healthy life.
Financial Education Benefits Center has partnered with several name brand third-party companies to expand the financial and educational products and services available to its members and to provide a variety of wellness services as well.
Financial Education Benefits Center Newsroom
Contact
To learn more about Financial Education Benefits Center, please contact:
Financial Education Benefits Center
2010 Crow Canyon Place Ste. 100
San Ramon, CA 94583
1-800-953-1388
info@febcp.com
Source: Financial Education Benefits Center
---
Categories: Active and Healthy Living, Personal and Family Finances
Tags: everyday savings, fitness discounts, health and wellness, hero's journey, membership benefits
---