Financial Education Benefits Center: Marathons for Those Who Can't Run 26.2 Miles
Press Release
-
updated: Nov 9, 2018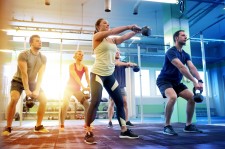 SAN RAMON, Calif., November 9, 2018 (Newswire.com) - The Boston Marathon draws the best runners from all over the world, testing endurance and conditioning. But not every marathon requires running and not everyone has the $4,000 it takes to run the Boston Marathon. There has been an explosion of marathons in non-traditional sports such as gym rowing, burpees, kettlebell, jump rope and SkiErg. These events push contestants to go beyond personal limits, encouraging high levels of fitness and pain tolerance. Whether someone is running for 26.2 miles, trying to keep up on a rowing machine or simply getting back to the gym after falling off their fitness routine, everyone can use support. Financial Education Benefits Center (FEBC), a membership benefits company, encourages members to get their bodies moving to increase mental and physical wellness.
"Marathons may not be for everyone," said Jennifer Martinez, manager at FEBC. "But we encourage all our members to make use of our benefits and get their bodies up and moving."
The Rowing Marathon has gained some notoriety since it appeared as an event at CrossFit Games this summer. Contestants row 42,195 meters — the distance of a running marathon — on a rowing machine, which the male winner took two hours, 43 minutes to complete and the female champion finished in just over three hours. The SkiErg is another gym machine. It simulates cross-country skiing and presents another 42,195-meter marathon challenge. Johan Nilsson of Sweden currently holds the record for indoor, stationary skiing of the official Olympic distance in just under three hours, 44 minutes. Numerous others have finished in under three hours and one female athlete, Madelen Carlzon of Sweden, has the women's world record at just over three hours, three minutes.
Other endurance event challenges that are called marathons, though they are not associated with the 26.2 miles marathon distance, are the Burpee 5K, Kettlebell and 10K jump rope. Burpees are tough enough: squatting, then a push-up, then rising up to do it again. For the marathon version, instead of simply standing, the athlete broad jumps forward — over and over again for 3.1 miles. Another endurance event involves kettlebells, which are bell-shaped cast-iron weights with a handle. In a marathon, athletes attempt to swing the weight back through their legs then upward, arms extended, above shoulder level for one hour, a full-body workout that will burn quads, glutes, core and shoulders after only a few minutes. Finally, doing 10,000 single jump rope repetitions is daunting, but taking that to double-unders — one jump for two rope revolutions — is what makes it a marathon. Double-unders are not for beginners but burn calories and improve cardiovascular health at a high rate.       
Whether clients are athletes looking to take their skills to marathon levels or just trying to get more active, FEBC offers numerous discounts designed to help members pursue physical and mental wellness. FEBC supports having good information to make better fitness and food choices with access to nursing advice for non-emergency medical questions and everyday discounts on groceries, as well as other healthy alternatives.
"Not everyone can or should take their favorite physical activity to the extreme, but making healthier choices is something everyone can do, especially with the right support," said Martinez. "With FEBC's benefits, members have access to various resources that can help them stay healthy and active even when budgets are tight."
About Financial Education Benefits Center
Financial Education Benefits Center is located in San Ramon, California. The membership company has already helped thousands save money and obtain the necessary education required to live a financially healthy life.
Financial Education Benefits Center has partnered with several name brand third-party companies to expand the financial and educational products and services available to its members and to provide a variety of wellness services as well.
Financial Education Benefits Center Newsroom
Contact
To learn more about Financial Education Benefits Center, please contact:
Financial Education Benefits Center
2010 Crow Canyon Place Ste. 100
San Ramon, CA 94583
1-800-953-1388
info@febcp.com
Source: Financial Education Benefits Center
Share:
---
Categories: Active and Healthy Living
Tags: Boston Marathon, exercise, fitness, health, health and wellness, marathon, membership benefits
---