Financial Education Benefits Center: 40 Percent of Americans Are Only a $400 Emergency Expense Away From Economic Vulnerability
Press Release
-
updated: Aug 14, 2018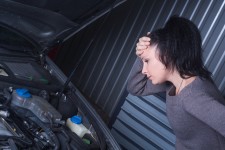 SAN RAMON, Calif., August 14, 2018 (Newswire.com) - ​​According to a recent study from the Board of Governors of the Federal Reserve, 40 percent of adults in 2017 would be forced to borrow money, sell something, or not be able to pay for the expense if faced with an emergency costing $400 or more. Further, one in five adults cannot cover their current monthly bills and one in four skipped a medical treatment in the past year due to their inability to pay. Even as economic conditions continue to slowly improve, since the Great Recession, many millions of Americans struggle with everyday expenses — especially those struggling with student loan debt. Offering a variety of financial planning and assistance resources, Financial Education Benefits Center (FEBC) helps members to be proactive with their personal and business finances that can enable them to be better equipped to handle unexpected expenses.
"It's disheartening to find out that so many Americans do not have the cash to cover a small auto repair or a visit to the doctor," said Jennifer Martinez, manager at FEBC. "We hope that our benefits can help our members stay on top of their finances and might assist them in navigating some unanticipated events."
The most common approach for individuals who have more difficulty covering their expenses is to carry a balance on their credit card or borrow money from friends or family. Some other common ways that individuals pay for these expenses are high-cost options like payday loans, deposit advances, bank overdrafts, or simply not to pay and face the consequences.
Another sign of economic vulnerability is the inability of individuals to pay their regular household bills. The survey shows that even without an unexpected expense, 22 percent expected to skip a payment on at least some of their monthly bills. This mainly means an individual was not paying, or making only partial payment on, a credit card. Of those unable to pay all their bills, one-third said that their rent, mortgage, or utility bills go at least partially unpaid.
FEBC has financial planning and health and wellness resources available to members at all plan levels. Members can access spreadsheets and planners to better prepare for unforeseen expenses. They can also speak with health professionals about physical symptoms through a telehealth benefit. The telehealth benefits may help FEBC members find help for mental health concerns. A pharmacy discount can also be used at participating locations to obtain prescriptions that may address a variety of issues.
FEBC members also have access to other wellness benefits that may be helpful. It's important to note that FEBC benefits are not insurance and are not intended to replace insurance.
"We want people to be able to survive an unexpected expense and remember that they are not alone — there are resources to help them with unplanned events," Martinez said. "Aside from speaking with medical professionals, they can call a representative at FEBC to see if any of our numerous benefits can help."
About Financial Education Benefits Center
Financial Education Benefits Center is located in San Ramon, California. The membership company has already helped thousands save money and obtain the necessary education required to live a financially healthy life.
Financial Education Benefits Center has partnered with several name brand third-party companies to expand the financial and educational products and services available to its members and to provide a variety of wellness services as well.
Financial Education Benefits Center Newsroom
Contact
To learn more about Financial Education Benefits Center, please contact:
Financial Education Benefits Center
2010 Crow Canyon Place Ste. 100
​San Ramon, CA 94583
1-800-953-1388
​info@febcp.com
Source: Financial Education Benefits Center
---
Categories: Active and Healthy Living
Tags: economic vulnerability, emergency expense, financial wellness, health and wellness
---